Zones Office 365 Complete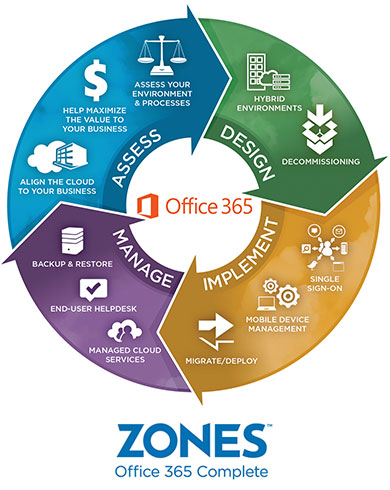 Go beyond deployment to true management
Planning and implementing an Office 365 migration can be complex and time-consuming. Then, there's the regular and ongoing need to do things like manage mailboxes, provide end user support, and perform data backups and restores. Hiring experts in Office 365 features and functionality is usually cost-prohibitive and waiting for issue resolution is costly and hinders productivity.
Delivered through best-in-class technologies and proven methodologies, Zones Microsoft Office 365 Complete is an all-inclusive program that goes beyond cloud subscriptions to include reliable, ongoing services for your Office 365 environment.
Zones Office 365 Complete provides you with:
Office 365 Plan licensing subscriptions
Office 365 migration and data synchronization
Unlimited backup and easy restore
Administrative support services
Expert 24/7 helpdesk for all end users
SharePoint, Visio, and Project end-user support
Mobile device management support services
Customize your Office 365 Complete single package solution. Get started by contacting your Zones account executive or calling us at 800.408.9663.
The Zones Office 365 Complete program is designed to be flexible so you can customize your packaged solution by choosing our services for each lifecycle phase: assessment, implementation, and management.
Assessment Services
Free Cloud Workshop
Cloud Readiness Assessment
Free Software Landscape Assessment
Free Microsoft License Statement
Implementation Services
Planning
Deployment
Migration
Mobility Management
Managed Services
Managed Cloud Services
End-User Helpdesk
Unlimited Backup and Restore
Break/Fix Support