VMware vSphere Data Protection Advanced
A backup and recovery solution designed for vSphere environments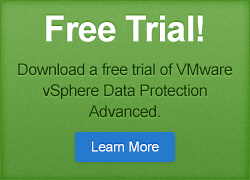 VDP Advanced extends the capabilities of vSphere Data Protection – already available with vSphere 5.5 Essential plus and higher – to provide greater scalability and integration with business-critical applications.
Powered by EMC Avamar, VDP Advanced delivers high-performance, agentless image-level protection, as well as application-consistent backups for Microsoft SQL Server, Exchange and SharePoint residing on physical servers.
Zones is your trusted provider of VMware and other virtualization software solutions.
For more information or place an order, contact your Zones account executive
or call 800.408.9663
VDP Advanced provides the most efficient backup capabilities using unique variable-length deduplication and simple management through native integration with vCenter Server and the vSphere Web client. It is capable of storing up to 8TB of deduplicated data per virtual appliance, and can safely backup environments of several hundred virtual machines.
Key features:
Extraordinarily efficient backup
Unique variable-length deduplication: Reduces backup storage consumption by up to 75 percent compared to fixed-length deduplication (a $60,000 savings on storage TCO per year for 200 VMs)
Granular and application-consistent backup for Microsoft Exchange, SQL Server and SharePoint
Integration with data domain: Increased capacity, further reduced storage consumption, and faster performance
Fast, assured recovery
Changed-block tracking backup and restore: Six times faster recovery than full-image restore
Network-efficient, secure backup replication for disaster recovery
Automated backup verification: Assured recoverable backup
Easy to use
Easy to install, easy to use
vSphere integration: Gives instant and complete visibility into your entire vSphere infrastructure
End-user file-level recovery: Application owners or guest operating-system administrators can do self-service restores