Power 770
Reliable, secure systems for your critical information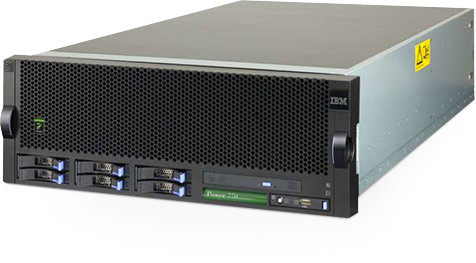 Today's IT performance means delivering services faster, with higher quality and with superior economics. The emerging measures of IT performance are around agility and the ability to help the business capitalize on new opportunities. IT is measured on providing an infrastructure that can handle rapid growth and manage business risk while meeting higher required service levels. And of course it is expected that new services will be delivered within tighter budget constraints – with IT expected to do more with less and find the most efficient solutions possible.
Designed for virtualized consolidation of business-critical workloads, the IBM Power 770 delivers on performance, availability, efficiency and virtualization in a way that is unique in the industry. PowerVM virtualization enables continuous, dynamic resource adjustments across all partitions and operating environments to optimize performance and enable higher utilization levels while optimizing energy usage. Supported environments include AIX®, IBM i, Linux for Power applications, all on the same system.
Learn more about the sophisticated capabilities of IBM Power Systems by contacting your Zones account executive or calling 800.408.9663.
Highlights
Cloud enabled for fast implementation of new workloads
Designed for secure, application availability
Modular, economically efficient design
Virtualized from within for better integration
Supports your growth, without disrupting your business
Get the technology you need now without having to pay for it all up front.
Lease it from Zones!
Learn more