Power System S812L & S822L
Linux servers optimized for scale out data and cloud environments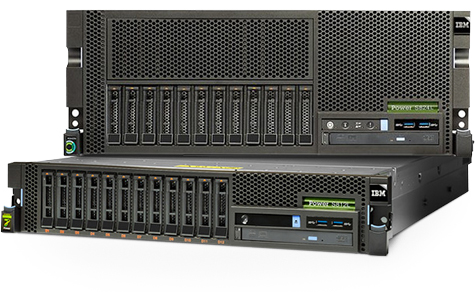 IBM Power Systems servers running Linux provide the ideal foundation for private and public cloud infrastructure. The Power S812L and S822L servers based on POWER8 processors deliver superior throughput over x86 based offerings for comparable workloads and provide superior economics for scale-out deployments.
For customers looking to deploy advanced analytics, Power delivers superior response time for sorting and querying unstructured big data sets, and a superior number of business reports per hour for typical business analytics over competing solutions built on x86. Designed to empower the ecosystem of open source development, these systems support an expanded Linux OS ecosystem (RHEL, SLES and Ubuntu Server) and support open source virtualization technology with PowerKVM.
Learn more about the sophisticated capabilities of IBM Power Systems by contacting your Zones account executive or calling 800.408.9663.
Highlights
Optimized for big data and analytics, the Power Systems Linux servers provide the ideal foundation for scale-out data and cloud environments in a compact 2U package
Gain faster insights with the IBM POWER8 processor and smart acceleration enabled by Coherent Accelerator Processor Interface (CAPI) technologies
Choice of Linux distributions: Red Hat Enterprise Linux (RHEL), SUSE Linux Enterprise Server (SLES) or Ubuntu Server
Choice between industry recognized enterprise virtualization with PowerVM or open virtualization with PowerKVM
Reduce energy consumption utilizing advanced energy control
Get the technology you need now without having to pay for it all up front.
Lease it from Zones!
Learn more