Power System S814
Open technology server for mid-sized business solutions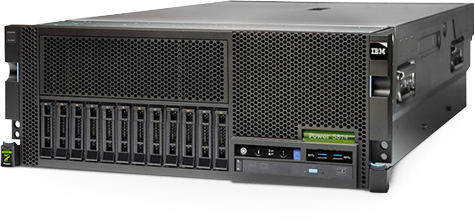 The IBM Power System S814 is designed to be a highly secure architecture providing a stable database and middleware platform for efficient deployment of business processing applications.
A 1-socket system with a 6-core POWER8 processor is available in either a rack or tower configuration. The higher performance 8-core system is available in a rack configuration and supports new I/O capabilities including CAPI accelerators, higher internal disk and solid state disk (SSD) capacities, and hot plug PCIe Gen3 slots.
Learn more about the sophisticated capabilities of IBM Power Systems by contacting your Zones account executive or calling 800.408.9663.
Highlights
Provides a highly secure architecture and stable platform for deploying business processing applications
Facilitates consolidation of UNIX, IBM i, and Linux workloads for midsized businesses
Helps you gain faster insights with the IBM POWER8 processor
Includes smart acceleration enabled by Coherent Accelerator Processor Interface (CAPI) technologies
Helps reduce energy consumption using advanced energy control
Get the technology you need now without having to pay for it all up front.
Lease it from Zones!
Learn more