Spectrum Accelerate
Ultra-flexible software-defined storage, deployed fast, anywhere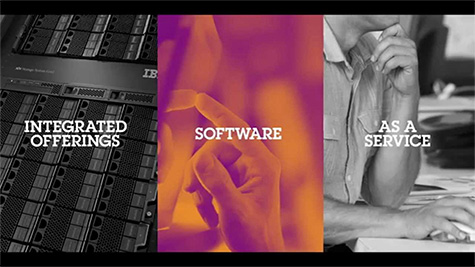 IBM Spectrum Accelerate is a highly flexible solution designed to help enable cloud environments while unleashing the incredible economic benefits and business responsiveness of software defined storage. A member of the IBM Spectrum Storage family of software defined storage solutions and derived from our proven XIV integrated storage offering, IBM Spectrum Accelerate complements and works in an integrated fashion with the other software offerings in the family.
Learn more about the sophisticated capabilities of IBM storage solutions that increase efficiency and performance. Contact your Zones account executive or call 800.408.9663.
Highlights
Scale-out storage grids in minutes, and offers easy acquisition and download from IBM's software ordering system
Runs across diverse deployment models and workloads, on premise and off, and offers a flexible, hardware-independent license
Helps simplify and standardize datacenter operations through world-class ease of use and enterprise features, delivered in a hyper-consolidated single management environment
Guaranteed hotspot-free service levels while removing performance tuning tasks and enabling you to meet the unpredictability of diverse workload demands in a world gone to cloud
An extremely intuitive single management experience that scales across 144 virtual machines and operates as-one with the integrated XIV Storage System or off-premise IaaS
Enables key use cases including rapid deploy of dev/test environments, mirroring and backup of data, serving as a cloud building block for larger enterprises and cloud providers, and providing high availability to smaller or distributed sites
IBM Spectrum Accelerate enables rapid deployment of block data storage across existing or purpose-built data infrastructure to meet new and traditional workload needs efficiently and flexibility on-premise, off-premise, or in a hybrid deployment model – while reducing the pain, cost, and time of standard procurement cycles.
Let IBM Spectrum Accelerate be the first step in deploying business-responsive software defined storage. Deploy new storage configurations when needed in minutes. Leverage trusted capability with accrued storage intelligence as a building block for cloud and to standardize data operations.
Get the technology you need now without having to pay for it all up front.
Lease it from Zones!
Learn more