Storwize V5000
Outstanding benefits with greater flexibility for midsized businesses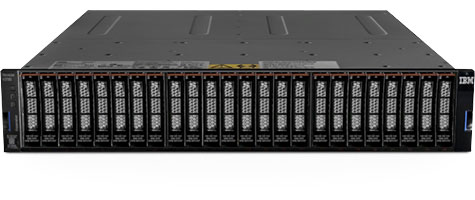 IBM Storwize V5000 is a highly flexible, easy to use, virtualized storage system that enables midsized organizations to meet the challenges of rapid data growth and limited IT budgets. As an intermediate Storwize family offering, Storwize V5000 enables organizations to consolidate and provide new capabilities to their existing infrastructures. With flexible licensing options, Storwize V5000 makes it easy to deploy complementary solutions, such as IBM ProtecTIER®.
Learn more about the sophisticated capabilities of IBM storage solutions that increase efficiency and performance. Contact your Zones account executive or call 800.408.9663.
Highlights
Simplify management with an industry-leading graphical user interface
Easily customize your storage system with flexible software options
Boost performance up to three times using only five percent flash storage with optional IBM® Easy Tier® technology
Consolidate and provide IBM Storwize® V5000 capabilities to existing storage infrastructures using optional external virtualization
Improve network utilization for remote mirroring with innovative replication technology
Organizations of all sizes are faced with a tidal wave of data coming from myriad new sources, including sensors, social media, mobile platforms and more. Data has become the new currency of business, their most critical asset. But organizations often spend too much money and time managing where their data is stored. The average firm purchases 24 percent more storage every year, but uses less than half of the capacity it already has.
To help maximize the benefits of growing amounts of data, many organizations are turning to software-defined storage, which frees data from physical storage and provides better access to applications. There are many ways to benefit from software-defined storage. One approach starts with data virtualization, which provides a software layer that helps simplify management. Data virtualization simplifies deployment of new applications and new storage tiers, eases movement of data among tiers, and enables consistent easy-to-use optimization technologies across multiple storage tiers.
In the era of cloud, big data and analytics, and mobile and social computing, organizations need to meet ever-changing demands for storage while also improving data economics. IT must deliver more services faster and more efficiently, enable real-time insight and support more customer interaction. The right infrastructure allows clients to share information, secure transactions and drive real-time insights.
The IBM Storwize family helps organizations achieve better data economics by supporting these new workloads that are critical to their success. Storwize family systems can handle the massive volumes of data from mobile and social applications, enable rapid and flexible cloud services deployments, and deliver the performance and scalability needed to gain insights from the latest analytics technologies.
Get the technology you need now without having to pay for it all up front.
Lease it from Zones!
Learn more