TS3200 Tape Library
LTO tape library provides reliable, high-capacity, high-performance tape backup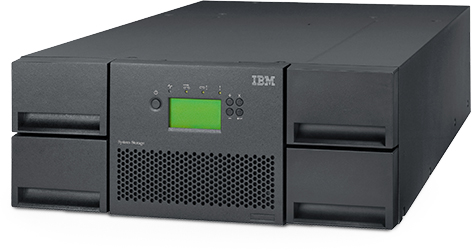 The IBM TS3200 Tape Library leverages the latest generation of LTO technology to help cost-effectively handle growing storage requirements.
The TS3200 – and its storage management applications – is designed to address capacity, performance, data protection, reliability, affordability, and application requirements. It is designed as a functionally rich, high-capacity, entry-level tape-storage solution incorporating the latest LTO Ultrium tape technology. The TS3200 is an excellent solution for large-capacity or high-performance tape backup with or without random access, as well as an excellent choice for tape automation for IBM Power Systems, and other open systems.
Learn more about the sophisticated capabilities of IBM storage solutions that increase efficiency and performance. Contact your Zones account executive or call 800.408.9663.
Highlights
Support the latest Linear Tape-Open (LTO) technology with up to two LTO Ultrium 6 full-height tape drives or up to four LTO Ultrium 6 half-height tape drives, as well as LTO Ultrium generation 4 and 5 tape drives using a 4U form factor
Gain outstanding capacity, performance and reliability for a cost-effective backup, restore and archive for midrange storage environments
Simplify user access to data stored on LTO Ultrium 6 and 5 cartridges through the use of IBM® Spectrum Archive featuring IBM Linear Tape File System technology
Manage library remotely through a standard web interface with flexibility and greater administrative control of storage operations
Get the technology you need now without having to pay for it all up front.
Lease it from Zones!
Learn more