TS4500 Tape Library
A next-generation tape solution that delivers higher storage density and integrated management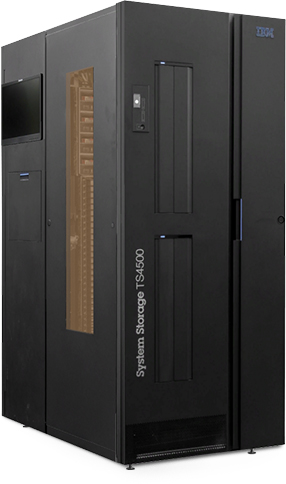 The IBM TS4500 tape library is a next-generation storage solution designed to help midsized and large enterprises respond to storage challenges. Among these are high data volumes and the growth in data centers, increasing cost of data center storage footprints, the difficulty of migrating data across vendor platforms, and increased complexity of IT training and management as staff resources shrink.
In TS4500, IBM delivers the density that today's and tomorrow's data growth requires – along with the cost efficiency and the manageability to grow with business data needs while preserving existing investments in IBM tape library products. Now, organizations can achieve both a low cost per terabyte (TB) and a high TB density per square foot. In fact, TS4500 can store up to 5.5 PBs of data in a single ten square foot library frame, more than three times more capacity than the IBM TS3500 tape library.
Learn more about the sophisticated capabilities of IBM storage solutions that increase efficiency and performance. Contact your Zones account executive or call 800.408.9663.
Highlights
Store up to 5.5 petabytes (PBs) of data in a single frame library-more than three times as much capacity as previous generations of IBM tape libraries
Improve storage density with more than two times the expansion frame capacity-and support for 33 percent more tape drives
Manage storage using the Advanced Library Management System
Improve business continuity and disaster recovery with automatic control path and data path failover
Help ensure security and regulatory compliance with tape-drive encryption and write-once-read-many (WORM) media
Support Linear Tape-Open (LTO) Ultrium 6, LTO Ultrium 5 and IBM® TS1150 and TS1140 tape drives
Provide a flexible upgrade path for users who want to expand their tape storage as their needs grow
Reduce the storage footprint and simplify cabling with 10U of rack space on top of the library
Get the technology you need now without having to pay for it all up front.
Lease it from Zones!
Learn more