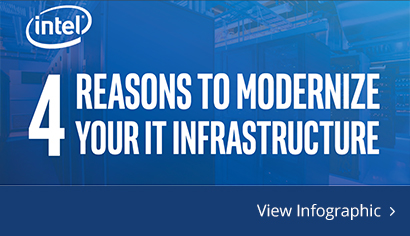 4 reasons to modernize your infrastructure.
Microsoft Windows Server 2008 and SQL Server 2008 are nearing end of life, and leaving those unsupported is a big risk.
But simply upgrading software isn't enough – your infrastructure needs to be current too. Together, Zones, Intel, and Microsoft can help you with all of it by:
Decreasing costs
Improving data security and compliance
Getting an easier path to hybrid cloud
Supporting expanding workloads and DevOps
Let's talk about how Intel Xeon processors can help you improve data center performance to handle any workload. Contact your Zones account manager or call 800.408.9663 today.
Jump-start innovation.
Today's economy relies heavily on data, and digitally transformed organizations are pulling ahead by combining business outcomes with digital strategies made possible by modern IT infrastructure. Intel and Zones can help you transform your data center to power your most critical workloads so that you too can start winning in the digital economy.
Intel next-generation technology.
Intel Xeon Scalable processors set a new standard for agility and scalability across compute, storage, memory, network, and security. Designed to transform data centers, the Intel Xeon Scalable platform drives operational efficiencies that lead to improved total cost of ownership (TCO) and higher productivity for users.
Operate more efficiently
Intel® Ethernet Network Adapters, Controllers, and Accessories enable agility within the data center to effectively deliver services efficiently and cost-effectively. Worldwide availability, exhaustive testing for compatibility, and 35 years of innovation have made Intel® Ethernet products customers' choice for server network connectivity.
Solve the most demanding storage and memory challenges
Every day, the amount of data created across the world is exploding to new levels. Enterprises thrive on this data to make critical decisions, gain new insights from the data, and differentiate services. But, today's current storage technologies leave a technology gap in data storage tiers.
The Intel® Optane™ SSD DC P4800X is the first product to combine the attributes of memory and storage. With an industry-leading combination of high throughput, low latency, high QoS and ultra-high endurance, this innovative solution is optimized to break through data access bottlenecks by providing a new data storage tier.
Featured Products