Data Protection
Everything faster — from client to cloud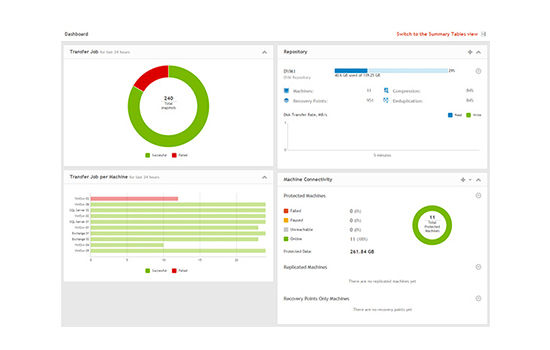 More than 70,000 customers worldwide depend on Quest to protect their applications and data with an always-on, easy-to-manage infrastructure. Their backup and recovery solutions help you transform your IT infrastructure as you adopt cloud, mobile applications, and big data projects.
Contact your Zones account manager or call 800.408.9663 to learn more about Quest data protection solutions.
DL Series Backup and Recovery Appliances
Save up to 20 hours a week in administration and increase backup speed by 10 times with a single, scalable and turnkey solution for rapid recovery of the data and applications in your SMB organization.
DR Series Disk Backup and Deduplication Appliances
Shrink data storage by a 15:1 ratio and accelerate existing backup software — all for as little as $0.16/GB. DR Series Disk Backup and Deduplication Appliances offer more speed, flexibility and reliability than comparable solutions.
DR2000v Disk Backup Virtual Appliance
The DR2000v delivers an economical alternative for protecting data at remote or branch offices. With the DR2000v, a disaster recovery (DR) backup virtual appliance running inside a virtual machine (VM) on a VMware ESXi or Microsoft Hyper-V server.
NetVault Backup
Protect data in diverse IT environments — from one intuitive console -- in this scalable backup and recovery solution. NetVault Backup supports multiple server and application platforms in both physical and virtual environments.
Rapid Recovery
Rapid Recovery, the next generation of AppAssure software, lets you protect anything — systems, apps and data — anywhere, whether it's physical, virtual and or in the cloud. Run without restore, with zero impact on your users, as if the outage never happened. Connect to cloud simply and easily, and protect growing virtual environments automatically. Manage and configure your data protection in just a few clicks.
vRanger
vRanger software provides high-speed backup and recovery of VMware, Microsoft Hyper-V, and physical Windows Server environments. It also provides high-speed replication for VMware