All Your Mobile Assets in One Console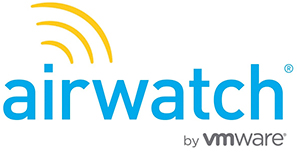 AirWatch is a comprehensive enterprise mobility platform that delivers simplified access to enterprise apps, secures corporate data, and enables mobile productivity.
Zones is your trusted provider of mobile management solutions. To place an order or for more information, contact your Zones account manager or call 800.408.9663.
Features:
Manage All Endpoints in a Single Solution
Support for every major operating system including Android, Apple iOS, BlackBerry, Chrome, Mac OS X, and Windows.
Support the Full App Lifecycle from Development to Deployment
A single app catalog to seamlessly deploy any app – native, web or remote – with built-in single sign-on
Automate Processes and Deliver Intelligent Insights
Getting started wizards and industry templates help you quickly and easily configure device policies and settings.
Protect Corporate Apps and Data on Any Network
End-to-end security encompassing the user, device, app, data and network, with conditional access, compliance monitoring and threat detection.
Increase Mobile Productivity with Engaging Business Apps
Workspace ONE productivity apps suite including Boxer, Content Locker, Socialcast and Browser.