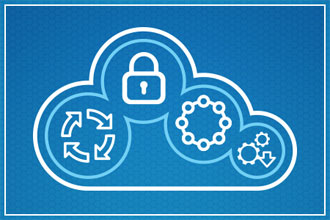 Explore cloud computing and service models
In basic terms, cloud computing refers to the different scenarios in which an IT resource is delivered as a service over the Internet. This type of computing relies on a shared pool of physical and/or virtual resources, including networking, storage, and business applications rather than deploying local/onsite hardware and software.
We're providing you with brief descriptions of key cloud computing terms. During discussions with a Zones cloud solution specialist, you'll have the opportunity to ask questions and learn more about key characteristics and business advantages of cloud computing.
Zones offers cloud computing solutions with agility and security in mind. Learn more by contacting your Zones account manager or send an email to
cloudsolutions@zones.com
to reach a dedicated cloud solution specialist.
Infrastructure and Business Continuity
When a third-party provider hosts virtualized computing resources over the Internet, it is known as Infrastructure-as-a-Service. When people refer to infrastructure in relation to the cloud, they are often thinking of compute and storage.
When speaking about as-a-service offerings, such as IaaS, one of the most common is Disaster Recovery-as-a-Service, or DRaaS. This is the replication and hosting of physical and/or virtual servers to provide failover in the event of a disaster. Disaster Recovery is part of Business Continuity, which is an organization's ability to continue operating despite serious incidents or disasters that might otherwise have interrupted them, or to recover to an operational state within a reasonably short period of time. Backup and archiving also fall under Business Continuity.
Zones has partnered with these strategic providers:

Cloud Security
Cloud security encompasses a broad set of policies, technologies, and controls deployed to protect data, applications, and the associated infrastructure of cloud computing. There are several key areas of security, including internet/web security, email security and endpoint protection, all of which are necessary to protect your organization.
Zones has partnered with these strategic providers:

Unified Communications and Email
Like the name implies, Unified Communications refers to the integration of various communication mediums – from email and messaging to VoIP and video conferencing in order to optimize business processes and increase user productivity.
Zones has partnered with these strategic providers:

Applications
Cloud hosted applications are programs that function in the cloud, with some characteristics of a pure desktop app and some characteristics of a pure Web app. Some of the most powerful applications are used to enable collaboration and improve productivity. Applications fall under the larger umbrella of Software-as-a-Service.
Zones has partnered with these strategic providers: