Jive-n
Social intranet software that drives alignment and productivity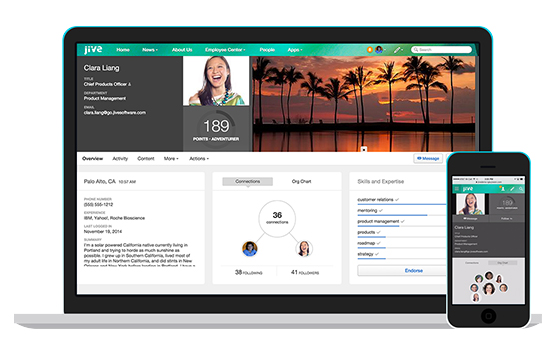 Jive-n is the digital workplace that unites people, conversations, and content across your business, helping your employees work much better together.
Zones is your trusted provider of business productivity solutions. To place an order or for more information about Jive software, contact your Zones account executive or call 800.408.9663.
With Jive-n, everybody can connect, communicate, and collaborate in one place to stay informed, aligned, and productive. Jive-n integrates with your essential apps and systems; and it runs on desktops, smartphones and tablets, enabling people to work however and wherever they work best.
Features
Connect employees to colleagues, experts, and information across your organization
People profiles appear everywhere a person is mentioned, putting a face to a name and personalizing the Jive-n experience.
Social search makes it simple to find prioritized content and recommended based on what's important to the projects you're working on.
Jive mobile apps for iOS and Android keep your workforce connected, engaged, and productive.
Communicate with a consumer-line experience
Blogs with rich media give people a voice to share important information and their best ideas with the company or within specific groups.
News streams deliver the communications employees need to stay aligned, informed, and engaged.
Spaces serve as portals for teams and functions where you can present key information to the rest of the organization.
Custom activity streams to get just the information you need to know.
Collaborate seamlessly across business applications and devices
Groups bring together all the people, content, and information needed to collaborate around a shared goal or interest, whether it's a project, a team, or community of practice.
Discussions provide a fast way to ask and answer questions, consult experts, and make decisions together without the hassle of meetings, disjointed email strings, and conference calls.
People can create and collaborate on documents – wherever they're stored – from within Jive-n.
Structured outcomes
Structured outcomes help people understand the status of a discussion, document, or comment. You can mark items as official, correct and helpful; or as a decision or for an action.