Unitrends Enterprise Backup
Ease virtual and physical protection with cloud-empowered backup and recovery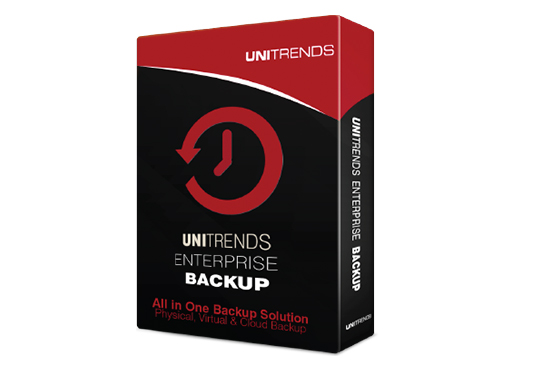 Unitrends's Enterprise Backup provides complete backup and recovery for your physical and virtual assets, and runs on the hardware of your choice. Whether you're trying to protect one VMware vSphere host with a hand full of VMs or a complete data center environment with physical servers and thousands of vSphere and Hyper-V virtual machines, Unitrends Enterprise Backup does it all.
Zones is your trusted provider of Unitrends and other data protection solutions. To place an order or ask for more information, contact your Zones account executive or call 800.408.9663.
Unitrends Enterprise Backup is a comprehensive, all-in-one backup and recovery software solution offering data protection and continuity for your physical and virtual infrastructure, purpose-built to run easily on the hardware platform of your choice. Provides deep virtual protection for all three major hypervisors-VMware vSphere, Microsoft Hyper-V, and Citrix XenServer.

Flexible All-in-one software on your hardware
Unitrends Enterprise Backup provides complete backup and recovery software that runs within your existing server, storage and virtualized infrastructure.

Cloud Empowered Backup and Recovery
Tightly-integrated cloud support provides flexible cloud storage and disaster recovery services on the Unitrends Cloud or the hyperscale cloud of your choice including Google, Rackspace or AWS.

Adaptive Deduplication
Adaptive Deduplication is a hybrid data reduction technology combining global byte-level deduplication or inline deduplication with source side deduplication (VMware), reducing storage capacity requirements by up to 95%.

Radically Simple User Experience
Monitor and manage backup, backup copy, and disaster recovery through a single pane of glass.

Deployment Options to Fit Any Environment
Deploy UEB software as a virtual appliance for Microsoft Hyper-V or VMware vSphere OR as installable software for Red Hat Enterprise Linux (RHEL) or CentOS.

Heterogeneous Infrastructure Support
Unitrends Enterprise Backup software eliminates the need for additional staff, money, and resources to integrate multiple backup solutions AND meet diverse corporate data protection and workload demands.

Deep Virtual Protection
Unitrends unique deep virtualization protection avoids the problems with hypervisor-level only snapshots, providing granular backup and recovery to meet tight backup windows and shorter RPO requirements for critical applications.
Comprehensive Recovery Assurance
Unitrend's instant recovery for VMware, Hyper-V and Windows, provides recovery of system and applications in less than 5 minutes. Unitrends Bridge adds single click P2V capability for Windows transformation to VMware or Hyper-V. Bare Metal Recovery can quickly restore servers, even to dissimilar hardware.

Flexible backup strategies and Near Continuous Data Protection
Unitrends provides an Incremental forever strategy to enable fully customizable combinations of full, synthetic full, incremental or differential backups on either single-server or multiple-server backup jobs. Backups can be scheduled as often as every 60 seconds for world class RPO.

No limits Licensing
No per client fees, no per agent fees, no per operating system fees, no per application fees and no new release fees.