Success in the cloud starts right here on earth.
Let's face it, your first and most important step is detailing and documenting all of the interwoven technical, operational, security, regulatory, and financial factors that underlie your current operation. Only an independent and verifiable assessment of your systems gives you the clarity and confidence to keep moving onward and upward.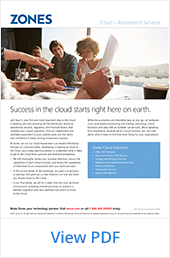 Cloud Assessment
At Zones, we run our Cloud Assessment is an iterative Workshop focused on Cloud education, developing a road map to move to the Cloud, and a deep planning session to understand what it takes to get to the Cloud from a process and technical perspective.
We will thoroughly review your business direction, discuss the capabilities of each Cloud provider and review the capabilities of individual Cloud components with your technical team.
In the second phase of the workshop our goal is to produce a Roadmap that gives you a clear direction on how and what you should move to the Cloud.
In our final phase, we will do a deep dive into your technical environment, reviewing internal processes to produce a detailed migration plan and readiness document to move to the Cloud.