Members of the Zones executive team were selected for their experience, strategic thinking and planning skills, and their ability to effectively produce results in the IT solutions marketplace.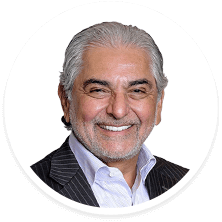 Firoz Lalji
Chairman and CEO
Firoz Lalji is Chairman, CEO, and Co-founder of Zones, LLC. Prior to his tenure at Zones, Lalji was the founder, president, and CEO of Kits Cameras, Inc., which he built into a chain of 225 stores across the U.S. and Canada. Lalji obtained his Bachelor of Science degree (Economics) from the London School of Economics and attended Harvard Business School. He serves on multiple advisory boards, including the board of directors of US Bank of Washington, the Foster School of Business at the University of Washington, the London School of Economics, and the Pacific Northwest Ballet. Lalji is also founder and chairman of the Program for African Leadership (PFAL) Foundation as well as the Program for African Leadership at the London School of Economics.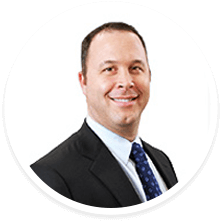 Derrek Hallock
President and Chief Operating Officer
Derrek Hallock was named President in 2020 and has held the Chief Operating Officer role at Zones since 2017. In this role, Derrek leads the company's Partner and Product Management (PPM), Services and Solutions Sales (including pre-sales technical support), Marketing, Operations, and Supply Chain, along with Logistics, Integration, Technology Solution Centers, and Service Delivery divisions. Since taking over as President, Derrek has driven innovation and collaboration across the company's partner ecosystem, increased operational and supply chain efficiency, optimized costs, elevated the Zones brand, and strengthened global service delivery for Zones' clients. Under his leadership, Zones has transformed into a truly global IT solutions provider dedicated to leading the industry in customer experience and client satisfaction.
Derrek leverages broad industry experience gained at SED International, Tech Data, and CompuCom Systems, where he led a progression of sales management, strategic marketing, and global supply chain organizations. He graduated from Michigan State University with a degree in Supply Chain Management. He went on to earn his Executive Master of Business Administration from the University of Washington Foster School of Business.
Russell Day
Executive Vice President, Chief Financial Officer, and Chief Strategy Officer
Rus Day was named EVP, Chief Financial Officer, and Chief Strategy Officer in April 2022. Rus is a proven global executive with leadership experience in finance, operations, and mergers & acquisitions. He also brings exceptional expertise in strategic planning to the company. Prior to joining Zones, Russell held multiple senior executive positions at Univar Solutions and Finning International Inc. This experience included most recently serving as CFO and COO of Finning's industrial solutions business, 4Refuel, one of North America's fastest-growing energy and power solutions companies.
A member of the Washington State Bar Association, Rus earned a Master of Law (LL.M.) degree in Taxation from the University of Washington School of Law and a Juris Doctor degree from the University of Idaho College of Law. He also holds Bachelor of Science degrees in Finance and Accounting from the University of Idaho.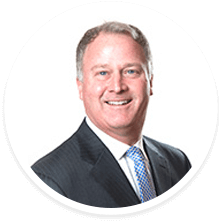 Dominic Camden
Senior Vice President and Chief Sales Officer
Dominic Camden was named Senior Vice President and Chief Sales Officer at Zones in 2017. He leads the public sector sales team, and has executive sponsorship of global accounts, client acquisition, and partners, where Dominic plays a strategic role in shaping the Zones organization to meet the increasing client needs for IT Solutions, Cloud, and Managed Services. His background is deeply rooted in the development of highly productive sales organizations.
Before accepting his current position, Dominic served as the Senior Vice President of Enterprise Sales at Zones. In this role, he spearheaded investments in infrastructure and people, securing multiple Fortune 500 customers. Prior to joining Zones, Camden was Senior Vice President of Sales at CPCS, an IT solution provider acquired by Zones in 2003. Before CPCS, Camden was Senior Director of Sales at VisionTek and held sales and management roles at GE Capital IT Solutions and IBM. Camden earned a Bachelor of Science degree in Business Administration with a Marketing Specialty from Marquette University.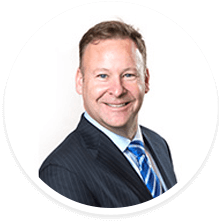 P. Sean Hobday
Senior Vice President of Global Business Development
Sean Hobday was named Senior Vice President in January 2012 to lead the company's global expansion efforts in Europe, the Middle East, Africa, Latin America, Asia-Pacific, India and Canada. Since then, he has architected a global footprint to serve Zones global customers around the world.
Hobday has held multiple leadership positions at Zones, including director of client development, vice president of enterprise sales and president of Zones Corporate Solutions. Hobday has specialized in developing global sales and operational units to serve global clients in the enterprise and mid-market space. Prior to his time at Zones, Hobday served as managing director of Blue Ice Leisure in Sydney, Australia, an Austral-Asian division of First Team Sports.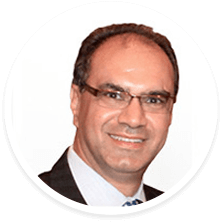 Saad Ayub, Ph.D.
Chief Digital and Innovation Officer – Zones, LLC
Saad Ayub was named Chief Digital and Innovation Officer (CDIO) in January 2022. In this role, he is responsible for managing the digital transformation organization and Global IT. Saad leads the overall digital strategy to develop new innovative products and enable the enterprise-wide transformation of Zones' business model.
Saad has a long track record of leveraging digital and emerging technologies to transform organizations, formulate new business models, and facilitate enterprise growth. Prior to joining Zones, he served as the Global CIO at Scholastic and as Divisional CIO at Aetna and The Hartford. He also worked as a management consultant with McKinsey & Company, where he advised clients on technology strategy and IT transformation. Earlier in his career, Saad was a research scientist, and product developer focused on Artificial Intelligence at GE Corporate Research & Development and GTE Labs.
Saad has been named one of the Premier 100 IT Leaders by Computerworld magazine and has spoken at various conferences on IT leadership. He completed both his Ph.D. in Computer Science (Artificial Intelligence) and his MBA from RPI in Troy, NY, and graduated with a BSc in Computer Engineering from METU in Ankara, Turkey.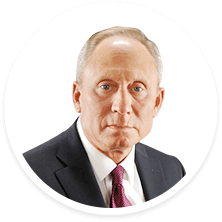 Jeff Andrew
Senior Vice President and Chief Delivery Officer
Jeff Andrew was named Senior Vice President and Chief Delivery Officer in March 2022 to lead our IT Services Delivery business. Jeff is a tech-savvy industry veteran and global executive who brings a steady hand and a builde's mentality. His knowledge and skills include all areas of service delivery in various industries, including retail, banking, healthcare, technology, and manufacturing.
Prior to joining Zones, Jeff held executive leadership positions at Pomeroy Technologies, CompuCom, VizTech (formerly Tech Force), and CSC (now DXC Technology). His extensive cross-functional IT leadership experience is integral to driving Zones' service delivery practices to benefit our customers. After earning an associate degree in IT programming, Jeff graduated from West Virginia University with a degree in Business Management.