Elevating Performance, Every Day
Improving patient care is Capsa Healthcare's number one priority, which is why product development focuses on providing caregiver workflow advantages and improving the integration and acceptance of technology into the patient care process. We are a recognized leader in the development and manufacture of mobile computing nurse workstations, medication carts, wall arms, and wall cabinet workstation solutions. For healthcare facilities striving to enhance patient care, safety, and staff productivity, we design our carts to be ergonomic, lightweight and customizable.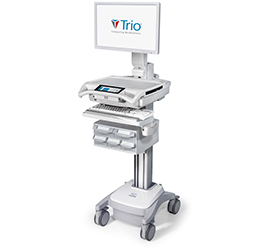 Capsa Trio Computing Workstation
The Trio Computing Workstation is a reliable partner in the delivery of patient care. It's easy-to-use, improves efficiency, and maximizes patient engagement by enabling clinicians to remain close to and interact with patients. Trio supports a variety of storage options including the new MaxBin™ system, which offers an unmatched level of flexibility and security and provides higher-capacity storage for medication and supplies.
Intuitive control center with simple touchscreen navigation
Slim profile and lightweight design for easy maneuverability
MaxBin storage system provides 60-74% more capacity per row than standard bins
Scalable power system to meet any runtime requirement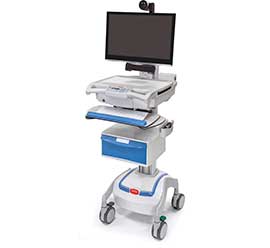 Capsa M38e Telepresence Cart
The M38e Telepresence Cart is equipped to enable video communication to enhance Telehealth workflow with real-time consultation, connecting doctors with remote patients. The use of telepresence workstations has expanded in recent months and they are being deployed for many purposes: as a check-in kiosk, for remote patient screening, for virtual routine or follow-up care, and for communication with isolated patients.
Key features of the M38e Telepresence Cart:
Configure with your choice of video conferencing and audio equipment
Optional mounts for video or web camera above the monitor
Optional I/O Pod for integrating peripherals
Locking or non-locking storage drawer options accommodate telepresence supplies
The M38e Telepresence cart enables facilities to expand patient services and increase the access and timeliness to care.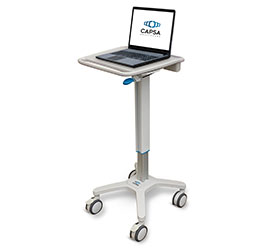 Capsa Healthcare SlimCart
The non-powered, ultra-lightweight SlimCart™ glides easily through tight care settings, providing a flexible, cost-effective solution for mobile documentation. The compact profile and 4" casters allow for simple mobility through doorways, in patient rooms or in hallways. The SlimCart™ provides a generous work surface with a slide-out mouse surface on the left or right side, and is configurable with your choice of laptop, tablet, or lightweight computer monitor.
Configurable with your choice of laptop, tablet, or lightweight monitor
Ultra lightweight, starting at just 27 pounds
15.35"w x 16.73"d compact profile for maneuvering in tight spaces
Flexibility to configure with one or two storage drawers
For more information, please reach out to your Zones Account Manager!