Capsa products and solutions from Zones


Elevating Performance, Every Day
Improving patient care is Capsa Healthcare's number one priority, which is why product development focuses on providing caregiver workflow advantages and improving the integration and acceptance of technology into the patient care process. We are a recognized leader in the development and manufacture of mobile computing nurse workstations, medication carts, wall arms, and wall cabinet workstation solutions. For healthcare facilities striving to enhance patient care, safety, and staff productivity, we design our carts to be ergonomic, lightweight and customizable.
Featured Solutions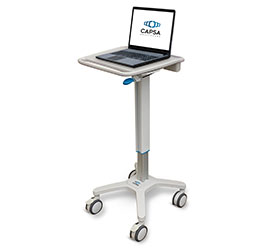 NEW! Capsa Healthcare SlimCart
The non-powered, ultra-lightweight SlimCart™ glides easily through tight care settings, providing a flexible, cost-effective solution for mobile documentation. The compact profile and 4" casters allow for simple mobility through doorways, in patient rooms or in hallways. The SlimCart™ provides a generous work surface with a slide-out mouse surface on the left or right side, and is configurable with your choice of laptop, tablet, or lightweight computer monitor.
Configurable with your choice of laptop, tablet, or lightweight monitor
Ultra lightweight, starting at just 27 pounds
15.35"w x 16.73"d compact profile for maneuvering in tight spaces
Flexibility to configure with one or two storage drawers
For more information, please reach out to your Zones Account Manager!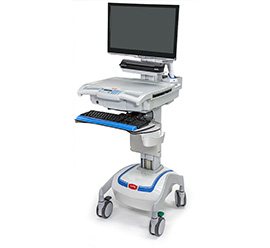 Capsa M38e Registration Cart
The M38e Registration cart is a flexible, mobile workstation that enables you to move easily from one patient room to another. Multiple drawer and bin options provide ample storage and smart organization of supplies. Choose from an array of accessories to best accommodate your choice of printer, scanner and electronic signature pads.
Slim profile glides through tight care settings
Large work surface with rear utility bins and expandable surface feature
Flexibility to configure with storage drawers or bins
Optional accessories to accommodate your choice of registration technology
To customize your solution, please reach out to your Zones Account Manager!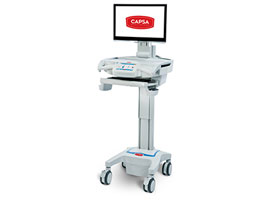 Capsa CareLink Nurse Workstations
Single Sign-On is now available with CareLink Nurse Workstations

Optimize clinical workflows, improve security and save care providers time with the NEW integration of CareLink and the Imprivata access management solutions. Single Sign-On enables care providers to quickly and securely access the CareLink workstation, medication drawers and EHR applications with a single tap, eliminating the need to remember multiple passwords.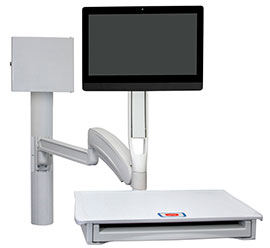 The Capsa Fluid ULT Arm is designed to provide maximum stability, flexibility, and functionality to facilitate clinical documentation and patient interaction in nearly any healthcare environment. Includes a 34" track, arm, extension arm, work surface and a tech box.
Independent monitor and keyboard rotation of 180°
22" in vertical arm adjustment
Added extension arm provides 62" of reach into the care environment
Large premium work surface with left / right mouse surface.
Slim profile of under 9.5" when stored to maximize space
For more information, please reach out to your Zones Account Manager!
Top Products