Building skills to enable success.
Organizations are leveraging modern technologies to help them remain relevant and competitive. However, technology is only as powerful as the people trained to use it. That's why it's critical for organizations to upskill their workforce to realize the full potential of their technology investments.
Global Knowledge offers a broad portfolio of courses, flexible delivery formats, and the best instructors to help employees and teams build the new skills needed to effectively and efficiently achieve their business goals in today's dynamic landscape.

Contact your Zones account manager or call us at 800.408.9663 for more details about Global Knowledge training.
Train on the Latest Brands and Topics






















Agile and Scrum
Cybersecurity
Leadership and Management
Analytics and Data Management
Data Center
Networking and Wireless
Application Development
DevOps
Office Applications
Blockchain
Enterprise Architecture
Project Management
Business Analysis
Enterprise Data Storage
Unified Communications
Business Skills
IT Policy and Governance
Virtualization
Cloud Computing
IT Service Management
Flexible Delivery Formats
Choose the delivery format that best supports your training goals, learning needs and budget.

Classroom Live
Receive engaging and relevant instructor-led training, collaborate with your peers and gain real-world skills while in a comfortable, ready-to-learn atmosphere. Experience our subject matter experts, superior content and relevant hands-on labs in more than 150 classroom locations across North America.

Virtual Classroom Live
Get engaging and impactful live, instructor-led training, regardless of your location. Virtual Classroom Live training combines premium learning technologies and our industry-leading instructors, content, exercises and peer collaboration to ensure that you get the highest quality professional development experience possible.

On-Demand
On-demand training is for professionals who prefer to develop the skills they need on their time and at their pace. Take comfort in that you're being taught by subject matter experts who are using proven learning development tools and techniques to deliver an interactive training experience that is cost-effective while providing maximum flexibility.

Private Group Training
Increase your team's efficiency in a private, coordinated professional development session at the location of your choice.
The best and Brightest Instructors
Learn from subject matter experts who bring years of real-world experience to the classroom to ensure better transfer of knowledge and student success.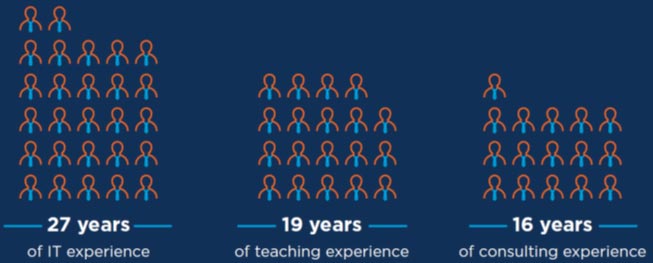 Global Knowledge Resources