LG's selections of hospitality televisions are built with a reduced total cost of ownership in mind. Pro:Centric SMART and Pro:Idiom with customizable tools unlocks access and enables delivery of applications tailored to both management and guest needs.
A continued commitment toward achieving the highest standard of excellence enables LG to deliver the best solutions and products in the industry, while focus on the success of your business and your guest's satisfaction has led to true partnerships based on reliability and trust.
LY570H Series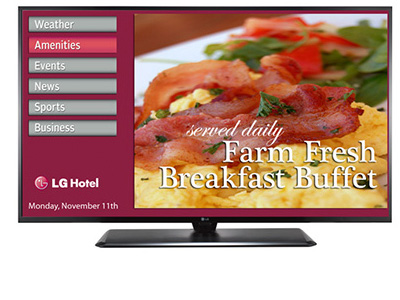 Integrated b-LAN provides a stable connection and better signal quality for TVs connected to a network. USB Cloning allows you to easily import/export the settings of one TV to all other units for uniform settings without time-consuming installations.
Single Tuner with Integrated Pro:Idiom
and b-LAN
USB Cloning
Remote Diagnosis
Multi IR
Self Diagnostic
Remote Manager
Welcome Screen
LY570H Series Products:
LX560H Series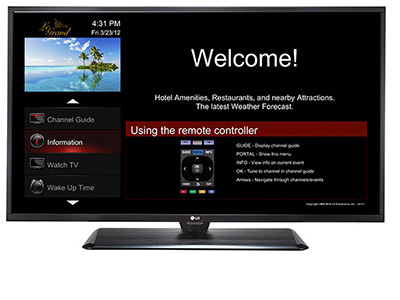 Second screen connectivity and sharing includes Wi-Fi Direct and Smart Mirroring technologies, used to pair guests' mobile devices with the TV, enabling them to share their content on the large HD screen. Pro:Centric SMART offers the ability to customize and optimize a property's TVs with interactive IP-based applications including HTML5, Java and Flash programs.
Single Tuner with Integrated Pro:Idiom
Remote Diagnosis
Smart Share
Self Diagnostic
Second Screen Connectivity/Sharing
Welcome Screen
Smart Mirroring
Multi IR
LX560H Series Products: