KACE Endpoint Systems
Management Appliances
Provision, manage, secure, and service all network-connected devices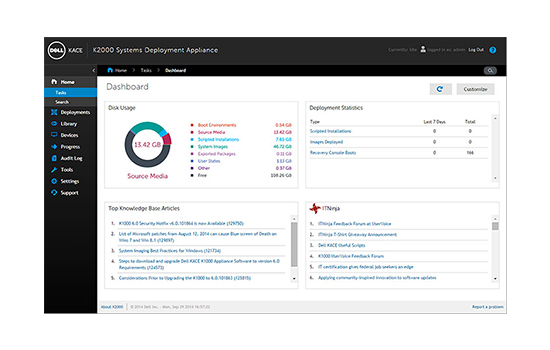 Replace your manual processes, non-integrated point solutions, or overly complex software suite with the industry's most comprehensive endpoint systems management solution and give your IT team more time to innovate.
Contact your Zones account manager or call 800.408.9663 to learn more about Quest system management solutions.
KACE fast-to-implement, easy-to-use systems management and deployment appliances provision, manage, secure, and service your growing organization's network-connected devices, including Windows PCs, Macs, Chromebooks, tablets, Linux, UNIX, and Windows Servers, printers, storage, and the internet of things (IoT), while their integrated appliance architecture delivers rapid return on investment.
KACE K2000 System Deployment Appliance
Make systems provisioning, image storage and management easier with access to the KACE K2000 Systems Deployment Appliance centralized deployment library - the repository of all system and software deployment assets, including images, network installations, drivers, applications, and scripts. Enhance provisioning consistency and reliability by ensuring the correct image or setup is always deployed to the appropriate system. All images are captured and archived to provide an accurate, comprehensive view, often eliminating the need for removable media, such as CDs and DVDs.
KACE K1000 System Management Appliance
The KACE K1000 Systems Management Appliance keeps you on top of all the hardware and software installed across your network. As the internet of things (IoT) - with an ever growing and diverse array of connected devices - expands to the enterprise, visibility over your entire connected environment is becoming increasingly more critical. The K1000 discovers all hardware and software on your network, and provides you with ongoing IT inventory management, IT asset management (ITAM) and software asset management (SAM), with robust reporting and alerting for most platforms. Whether you're running Windows, Mac OS X, Linux, UNIX, Chrome, iOS or Android, the K1000 provides you with detailed oversight of your entire environment from a single pane.
KACE Essential Services
This comprehensive portfolio of professional, support, and education services helps you realize the most value from your KACE endpoint systems management appliances. Whether you're just getting started with your first appliance, looking for ways to augment your existing appliance, or exploring ways to expand your KACE capabilities, KACE Essential Services will help you reach your goals. These services are designed to help your organization throughout the endpoint systems management lifecycle.