Riverbed products and solutions from Zones

Eliminate unneeded complexity and take your network performance to the next level with our Riverbed offerings. For more information on Riverbed, contact your Zones Account Manager or call 800.408.9663 today.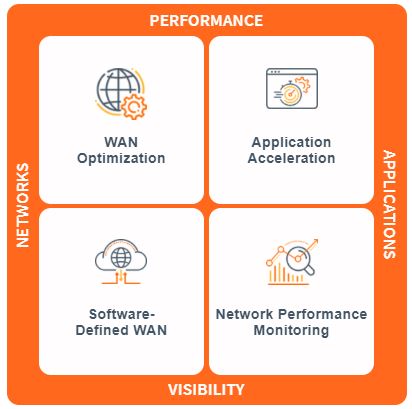 Riverbed enables organizations to visualize, optimize, and remediate the performance of any network for any application. Riverbed's secure, open, and flexible platform comprises best-of-breed WAN Optimization, Application Acceleration, Network Performance Management, and enterprise-grade SD-WAN solutions.
WAN Optimization
Increase network efficiency and performance by up to 100x while reducing bandwidth utilization across hybrid and software-defined networks.

Application Acceleration
Ensure the fastest, most reliable delivery of SaaS, cloud, and on-premises applications to any user, regardless of location or network type.

Network Performance Management (NPM)
Ensure service quality, network security, and fully optimized hybrid IT resources with a unified NPM solution that provides broad visibility and analysis.

Software-Defined WAN
Modernize your network with a software-defined architecture that delivers cloud-ready agility and cost savings without compromising user experience or security.

View all Riverbed products