Samsung's large selections of consumer televisions are built to change the way you interact with and watch TV. Curved screens with Auto Depth Enhancer and stunning 4K UHD resolution create a viewing experience with greater contrast and more vibrant colors. Smart TV's with Quick Connect make accessing apps, web browsing, and watching and sharing your favorite content easier than ever before.
With Samsung you can watch TV the way you want, when you want, and where you want with ease.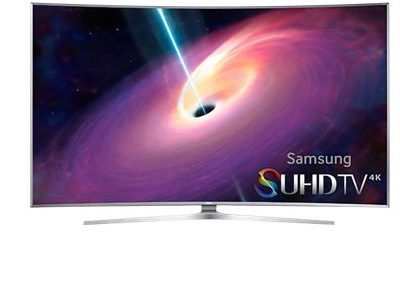 4K SUHD JS9500 Series Curved Smart TV
An immersive curved screen makes every seat a great seat, where scenes come to spectacular life with optimized contrast and expanded brightness levels across the entire picture. The built-in camera lets you make Skype calls from your TV, while also controlling volume, content browsing, and playback with hand motion control.
Nano Crystal Color
Smart View 2.0
MultiZone Full Array Back Lighting
One Connect Box
Auto Depth Enhancer
Smart Remote Control
Octa-Core Processor
Smart Hub
Built in Camera
Apps Platform
Motion Rate 240
4k SUHD JS9500 Series Curved Smart TV Products:
4K SUHD JS8500 Series Smart TV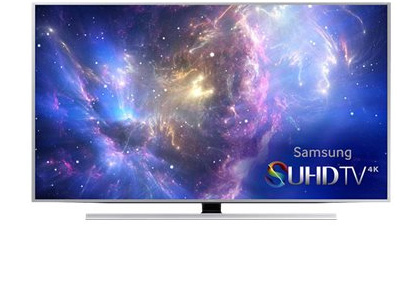 UHD Upscaling allows you to upgrade all lower resolution media to a stunning near ultra high-definition experience with enhanced detail and optimized picture quality. The Quad-Core Processor lets you enjoy a fluid browsing experience and faster control – switching between apps, streaming content, and other media effortlessly.
Nano Crystal Color
Smart View 2.0
Precision Black
One Connect Box
Contrast Enhancer
Smart Remote Control
UHD Upscaling
Smart Hub
Quad-Core Processor
Apps Platform
4k suhd js8500 series smart tv Products:
J6300 Series LED Smart TV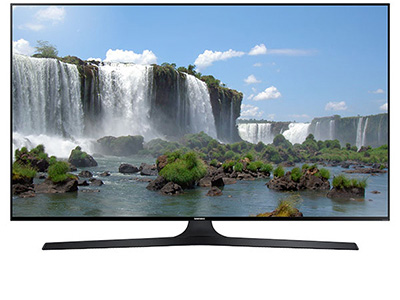 With Wide Color Enhancer you see every image as the director intended with enriched colors – even with older, non-HD content. Connect Share Movie lets you plug your favorite entertainment and media into your TV – watch videos, play music, or view photos through a USB connection.
Full HD 1080p
Connect Share Movie
Micro Dimming Pro
DTS Premium Sound 5.1
Quad Core Processor
Anynet+
Motion Rate 120
Smart Hub
Full Web Browser
Apps Platform
Smart View 2.0
j6300 series led smart tv Products: