Deep Discovery
Proven Protection against targeted attacks and Advanced Persistent Threats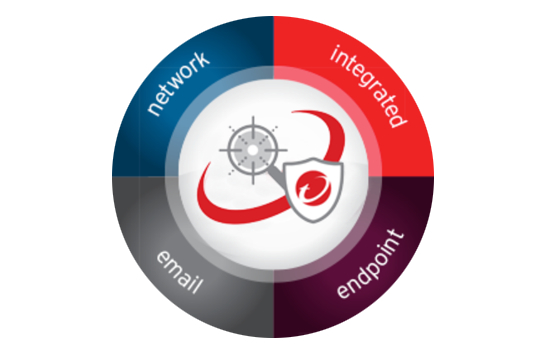 The Trend Micro Deep Discovery threat protection platform enables you to detect, analyze, and respond to today's stealthy, targeted attacks in real time. Deployed as individual components or as a complete cyber security platform, Deep Discovery provides advanced threat protection where it matters most to your organization.
Zones is your trusted provider of Trend Micro. For more information or to place an order, contact your Zones account manager or call 800.408.9663.
The Deep Discovery platform is the foundation of the Trend Micro Network Defense, integrating your security infrastructure into a comprehensive defense tailored to protect your organization against targeted attacks.
Highest detection rates thanks to specialized engines and custom sandboxing
In-depth analysis with local and global threat intelligence correlation
Rapid response using advanced endpoint forensics and shared IOC intelligence
Featured Products
Trend Micro Deep Discovery Inspector
Deep Discovery Inspector is a network appliance that gives you 360-degree network monitoring of all traffic to detect all aspects of a targeted attack. Deep Discovery Inspector monitors all network ports and more than 100 protocols, giving you the broadest protection available.
Trend Micro Deep Discovery Email Inspector
Deep Discovery Email Inspector is an email security appliance that uses advanced detection techniques and sandboxing to identify and block the spear-phishing emails that are the initial phase of most targeted attacks. It reduces your risk of attack by adding a transparent inspection layer that discovers malicious content, attachments, and URL links that pass unnoticed through standard email security.
Trend Micro Deep Discovery Endpoint Sensor
Deep Discovery Endpoint Sensor is an endpoint security monitor that records and reports detailed system-level activities to allow threat analysts to rapidly assess the nature and extent of an attack. Deep Discovery attack intelligence and other IOCs can be used to match endpoint tracking data to verify infiltrations and uncover the full context and timeline of an attack.
Trend Micro Deep Discovery Analyzer
Deep Discovery Analyzer is a custom sandbox analysis server that enhances the targeted attack protection of Trend Micro and third-party security products. Deep Discovery Analyzer supports out-of-the-box integration with Trend Micro email and web security products, and can also be used to augment or centralize the sandbox analysis of other Deep Discovery products.