Network Defense
Detect, analyze, and prevent breaches and targeted attacks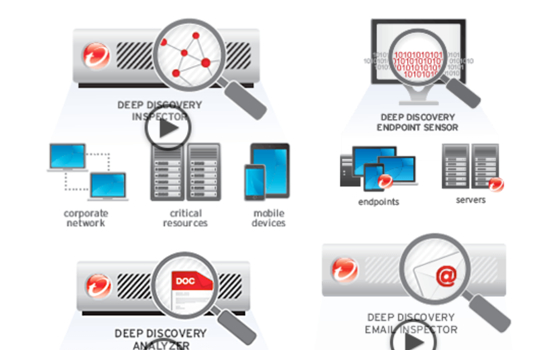 The Trend Micro Network Defense solution enables you to preserve the integrity of your network while ensuring your data, communications, intellectual property, and other intangible assets are not exploited.
Zones is your trusted provider of Trend Micro. For more information or to place an order, contact your Zones account manager or call 800.408.9663.
Their unique combination of innovative next-generation intrusion prevention and proven breach detection enables thousands of global enterprises to prevent breaches and targeted attacks from establishing a persistent foothold within the network.
Detect and block malicious network activity and exploits
Proven wire-speed Next-Generation Intrusion Prevention System proactively detects and prevents vulnerabilities, network exploits as well as identity and application awareness to enable contextual visibility and enforcement.
TippingPoint is now part of Trend Micro
The acquisition of TippingPoint positions Trend Micro as the go-to enterprise security provider of dynamic threat defense solutions spanning endpoints, network, data center, and the cloud.
Detect targeted attacks and advanced threats
Network-wide breach detection identifies and responds to targeted attacks and advanced threats with the ability to share threat insight and enable enforcement with both Trend and third-party security investments.
Trend Micro Deep Discovery Inspector
Deep Discovery Inspector is a network appliance that gives you 360-degree network monitoring of all traffic to detect all aspects of a targeted attack. Deep Discovery Inspector monitors all network ports and more than 100 protocols, giving you the broadest protection available.
Trend Micro Deep Discovery Endpoint Sensor
Deep Discovery Endpoint Sensor is a context-aware security monitor that records and reports detailed system-level activities to allow threat analysts to rapidly assess the nature and extent of an attack. Deep Discovery attack intelligence and other IOCs can be used to match endpoint tracking data to verify infiltrations and uncover the full context and timeline of an attack.
Trend Micro Deep Discovery Analyzer
Deep Discovery Analyzer is a custom sandbox analysis server that enhances the targeted attack protection of Trend Micro and third-party security products. Deep Discovery Analyzer supports out-of-the-box integration with Trend Micro email and web security products, and can also be used to augment or centralize the sandbox analysis of other Deep Discovery products.