Zones Cloud Solutions Provider Plus
We call it CSP+. You'll call it your competitive advantage for Azure cloud migration, data storage and computing.
Zones CSP+ goes beyond the limitations of a standard CSP to give you everything the cloud can offer
In Zones, you'll have a trusted partner to guide you through every step of your cloud migration journey. A well-defined roadmap will plan for any eventuality. And along the way, your organization will benefit from data-driven insights and customized dashboards that will help you simplify your IT infrastructure, increase flexibility, and save money.
Our unique, end-to-end suite of cloud services combine best-of-breed cloud offerings with our proven Assess, Design, Implement, Manage (ADIM) framework. Zones CSP+ frees you from the typical challenges of cloud migration, such as a lack of control and governance, multiple tools and platforms to manage, and an inability to forecast growth or consumption/scale.
Your CSP+ program will include:
Automated tools for assessment and provisioning
Dedicated teams of cloud subject matter experts – both on-premises and public cloud
Platform-driven service and support
Transparent expenditure governance and cost visibility
How does CSP+ work?

Assessment
Our cloud assessments give you visibility into both your current environment and your options in the cloud. Zones Discovery Services for Office 365 and Zones Cloud Advisory Assessment enable us to identify your data center environments – on-premises, cloud or a hybrid of both – and provide a single view of devices and software. Our tools can also map applications and services, create performance heat maps, and provide TCO modeling for the cloud.

Deployment
Once we have a handle on your environment and have planned the path your journey will take, Zones will be there to guide you on your migration. We offer Deployment & Migration services for Office 365 and Azure infrastructure, including architecture and design of cloud-based messaging systems, lift and shift services to build exact copies of workloads, network configuration, and more.

Relationship Governance
Once your migration is complete, CSP+ also provides health and financial governance support at regular intervals. We'll conduct configuration checks, overall infrastructure health checks, and pattern recognition for anomalies to ensure your cloud solution is working smoothly. Plus, we'll help you monitor your usage and spending over time and provide data-driven recommendations.
During your cloud migration journey, the Zones CSP+ team will provide consulting and support services in five key areas.
Advisory & Architecture Consulting

Includes assessing your current environment and designing a cloud infrastructure that best suits your needs today and for the future.
Implementation & Migration Planning

Expert guidance, including creating a roadmap to ensure a smooth migration.
Security & Compliance

To bolster your cybersecurity defenses and maintain regulatory compliance.
Complimentary Financial & Health Governance

To help you optimize your usage, control costs, and ensure effective cloud operations.
Cloud Managed Services

Why choose Zones
Zones is a one-stop shop for Azure cloud solutions. Our comprehensive CSP+ addresses your IT requirements for subscriptions, assessments, and professional and managed services.
Zones' value to customers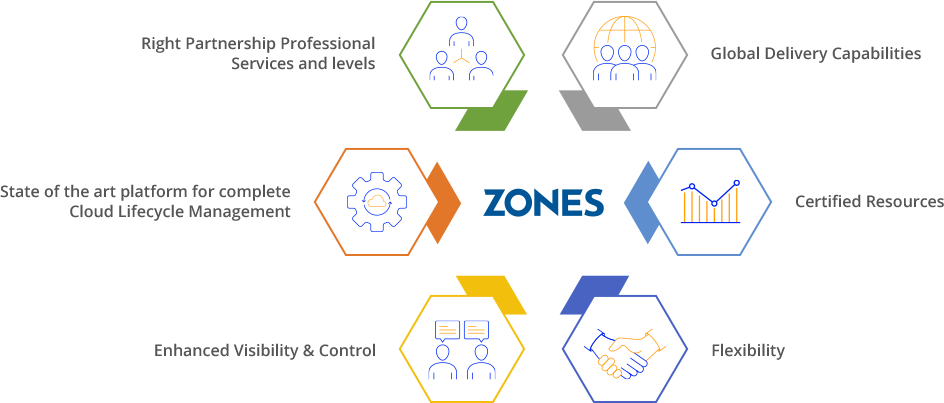 Strategic partnership with Microsoft
Zones has literally spent decades developing strategic partnerships to benefit our customers. We're proud to be a Microsoft Gold Cloud Solution Provider, an Azure Virtual Desktop Advanced Specialization Provider and a Microsoft Licensing Solutions Partner. Our team has the knowledge and experience that's required to support you every step of the way.
Get a free Azure Migration Assessment
For all the competitive advantages of Zones CSP+ for your organization, get started with a free, no-obligation Azure Migration Assessment.