Printing services to optimize infrastructure, manage environment, and improve workflow
Zones has partnered with some of the most well known printer manufacturers and service providers to offer a variety of print management solutions.
Our team of experts can help you choose the right solution to increase the efficiencies around managing your print environment – from having supplies delivered as needed on auto ship to handling 100 percent of your fleet's maintenance services, or even completely offloading all print management tasks. All of our solutions can help you lower the total cost of owning and operating your printer fleet. You'll also free up time to focus on objectives that demand more attention, like your network and data center.
Zones will help you assess, optimize, and implement a solution designed to help you lower costs, print more efficiently, anticipate output and required supplies, and ensure that all of your devices stay up and running.
Get started by evaluating your printer fleet and environment with help from a Zones managed print solutions specialist. Contact your Zones account manager or call 800.408.9663.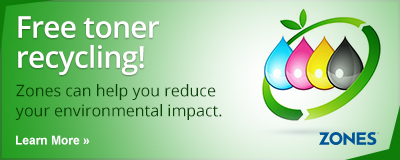 Zones Managed Print Solutions
Zones Managed Print Solutions offers fully integrated management of an organization's entire print fleet and all the associated costs. This comprehensive solution helps IT administrators manage the print environment, optimize their printing infrastructure, and improve workflows.
Manage multiple brands and models with a single solution
View real-time status of printers 24/7
Accurately measure and attribute costs through real-time reporting
Receive automatic shipments of printer supplies routed to specific devices
Maintains uptime through device troubleshooting and national on-site support
Analyze workload trends and device efficiency