ZonesCloud™ Marketplace and Management Platform
Our complimentary, web-based platform automates procurement, provisioning, fulfillment, and management for subscription and perpetual software customers.
ZonesCloud™ is a modular, scalable, and secure enterprise-grade cloud commerce platform that brings together everything you need in one place. Includes Cloud subscription management for SaaS, IaaS, and XaaS.
Simple. Centralized. Self-Service.
One, easy-to-use solution makes it all more efficient, transparent, and cost-effective
In an era of digital transformation, the ZonesCloud™ Marketplace and Management Platform is a welcome replacement for what is typically a time-consuming process that requires you to sign in to multiple accounts.
With ZonesCloud™, you'll have one end-to-end solution for cloud subscriptions and perpetual software licenses. Procure, provision, fulfill, and manage all from a single virtual location.
Automation and centralized control are the keys to getting what you need when you need it.
ZonesCloud™:
Lets you move IT costs for infrastructure and software from capital expenses to operating expenses
Uses automation to drive operational efficiency
Makes it easy to subscribe, consume and manage cloud-based services with automated management
Supports flexibility with your choice of month-to-month billing, annual commitments with monthly billing, annual billing, or consumption-based pay-as-you-go billing
Simplifies administration and enables better management via individual, web-based consoles for the product subscriptions you choose
Provides visibility to your software subscriptions and cloud usage spend, helping you lower costs and increase efficiency
A Closer Look at ZonesCloud™
Subscription transparency

Orders & History

Provisioning

Subscription Status & Reporting
Subscription Management

Platform
ZonesCloud™ provides self-service capabilities to research, quote, purchase, provision, view, and manage your cloud subscriptions and perpetual software licenses. It all begins with your Cloud Customer Dashboard (below).
From your dashboard, you can see and access all your active subscriptions. To change a subscription, click a software tile – Office 365, for example. This will open a web-based console for that software. There, you can add new subscriptions, adjust your existing subscriptions or cancel subscriptions. ZonesCloud™ simplifies it all.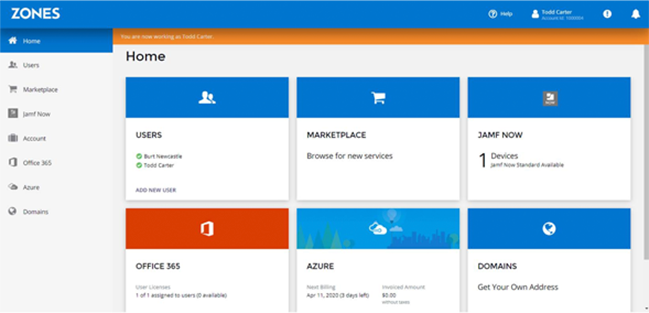 ---
Inside the Cloud Marketplace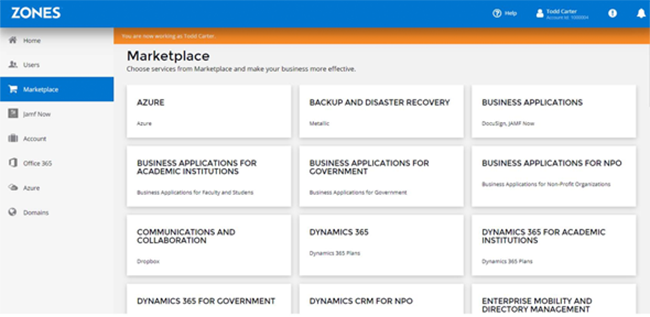 Browse the ZonesCloud™ Marketplace to quickly find and order your organization's cloud subscriptions and perpetual software licenses. Make updates to existing subscriptions and fulfill new orders as needed.
The Marketplace also makes it easy to find and subscribe to additional services and solutions – security, backup and disaster recovery, and more – to make your operations more efficient and cost-effective.
---
Software as a Service (SaaS)














---
SaaS Spotlight
Discover and assess all the software and hardware installed throughout your network with Zones Discovery Services
Quickly and effortlessly gain deep insight into everything that's on your corporate network
Get insights for rightsizing and reducing compliance risks
Discover software cost-saving opportunities
Plan for desktop, server, and network upgrades and refresh cycles
---
Infrastructure as a Service (IaaS)



Anything as a Service (XaaS)
---
Perpetual Software Licenses

Perpetual Software Made Easy

License-only without software assurance and pay in full upfront.
Desktop tools
Office Standard and Professional Plus 2019
Office for Mac Standard 2019
Project and Visio 2019
Windows 10 Enterprise LTSC 2019 Upgrade
Infrastructure servers
Windows Server 2019
SQL Server 2019
BizTalk Server 2020
Microsoft Identity Manager 2016
Productivity servers
SharePoint Server 2019
Skype for Business Server 2019
Project Server 2019
For a complete list of available products, please contact your Zones Account Manager.
Simplify cloud procurement, provisioning, and management with ZonesCloud™.
Already have a ZonesCloud™ account?