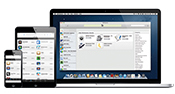 Casper Suite
Everything Apple, managed
The Casper Suite simplifies the life of system administrators by providing a comprehensive platform to inventory, provision, update, and maintain Mac OS X machines. The Casper Suite increases the efficiency of your IT staff, reduces the cost of ownership, and minimizes liability by allowing your organization to build and sustain a stable, cost effective, and user-friendly computing environment.
Zones is your trusted provider of Apple mobile management solutions. To place an order or for more information, contact your Zones account executive or call 800.408.9663.
Features
Deployment and provisioning
The Suite includes all of the tools to build packages, configuration profiles, and other components that go into creating a secure, ready-to-use computing environment for your end users.
Software and content distribution
The Casper Suite can distribute software, content, and management profiles to your Apple devices in multiple ways depending on your needs - including an on-demand push, behind the scenes policy, or end-user initiation through an IT-curated Self Service interface.
Compliance and security
With the Casper Suite you can implement, enforce, and monitor the settings, profiles, encryption standards, and passwords that are a part of your security protocol - automatically and remotely.
Consumer choice
The Casper Suite's Self Service portal makes everything from routine help desk support to eBooks available to end users whenever, and wherever, they want.
Automate Apple tools
The Casper Suite is developed to embrace, extend, and enhance these tools to improve the support of Apple in the enterprise, and make every new release a knock out.