RingCentral Office
Discover how easy it is to move your business
phone system to the cloud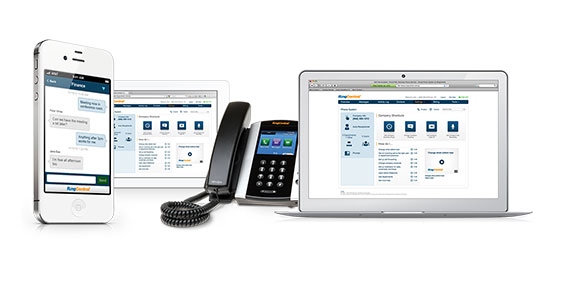 With the RingCentral cloud phone system, you plug IP desk phones and PCs into your Internet connection and install the RingCentral Mobile App on your employees' smartphones.
Zones RingCentral solution experts can help you design and implement communication and collaboration solutions in your environment. To get started, contact your Zones account executive or call 800.408.9663.
These endpoints communicate with the RingCentral cloud platform for secure voice, fax, text, audio conferencing, and HD video meetings. It's that simple – for all your office locations.
Implementation
Moving your business phone system to the cloud is simple and straightforward. Setup is fast, and a RingCentral implementation specialist will facilitate a smooth transition for all your office locations and remote workers.
Your account representative helps you determine how many users and how many IP phones your business will need. Use your existing IP phones, or rent them from RingCentral at affordable prices. You also can connect your PCs and smartphones to the service with free RingCentral applications.
Flexible Management
You can manage your entire RingCentral phone system from your desktop computer or smart devices for all users across all office locations. It's an integrated solution, all managed through the cloud. You have complete control. All using a familiar, user-friendly Web interface – check boxes, dropdown menus, fill-in text fields.
It's easy to add and change users, assign phones, manage extensions, and groups anytime, from anywhere. No need to tie up your IT department or schedule a visit from an expensive contractor or a phone-company technician.
Mobile-enabled Phone System
Employees don't want to carry two phones, one for work and one for personal calls. Yet integrating personal mobile devices into the corporate system is a challenge for management – and for security.
RingCentral addresses this with the RingCentral Mobile App, which fully integrates employee mobile devices into the company business phone system. Using the RingCentral Mobile App, employees can make business calls, check business voicemail, send and receive business faxes and text messages, and access the company directory.