Self-Service Retail Kiosk Solutions
Transform the customer experience – more engaging, interactive and empowering
Self-service kiosks are highly visual and easy to use – and make smart additions to your omnichannel strategy.
Self-service kiosks join a long list of technologies empowering consumers. An increasingly tech-savvy population of do-it-yourselfers have embraced any opportunity to use technology to better their lives. Retailers are taking notice.
Self-Service Never Looked So Good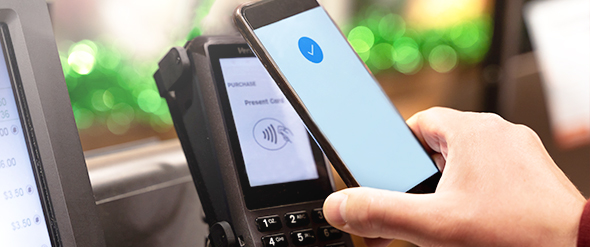 Customer benefits of retail kiosks include:
Provides interactive access to product information and options
Enhances in-store experience with product demonstration videos
Enables fast self-checkout with contactless payment
Kiosks linked to Apple Pay™ and your loyalty program enable even faster checkout while customers accumulate rewards for future purchases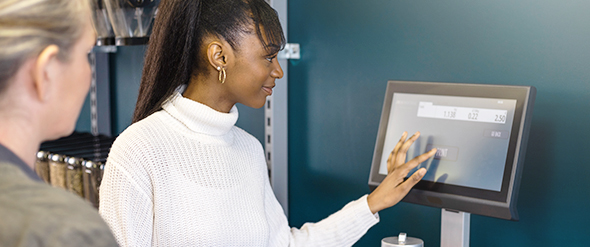 Business benefits of retail kiosks include:
Improves operational efficiencies and profit margins
Enables you to optimize labor costs by focusing staff on priority tasks and providing value-added services
Helps increase sales via upselling, recommendations, and special offers
Supports the endless aisle effect, enabling you to sell in-store customers products that are out of stock or not sold in-store
Linking kiosks to your loyalty program supports omnichannel marketing efforts and repeat business
Retail analytics give you insights into customer behavior, best- and least-selling items, and more for better decision-making
The Big Challenge for Retailers?
Answer: Selecting, configuring, installing, and supporting the best self-service kiosks for your customers, business model, and budget.
Focus on Your Strategic Initiatives. Leave the IT Complexities to Us.
Zones' end-to-end services and unmatched global supply chain will expedite your digital transformation.
Our customer-first approach begins with listening. We listen to understand your unique business and customer needs, challenges, and aspirations.

Expert guidance
Based on your requirements and budget, we'll show you how self-service kiosks can enhance your customers' experiences and your business's bottom line. And because Zones is brand and OEM agnostic, we'll help you select the kiosk solutions that best fit your needs. We don't sell one-size-fits-all solutions.
Additional services include:
Conduct site surveys to help you identify the ideal retail kiosk locations, based on customer traffic
Determine the best mounting approach – freestanding, counter-mounted, or wall-mounted – for each kiosk location
Identify and plan for power and network connectivity

Project management and logistics
While you focus on what you do best, we'll acquire, provision, configure, and deploy your retail kiosk solutions wherever you need them. In the U.S. and worldwide, our unmatched global supply chain has you covered in more than 100 countries.
And you'll have complete visibility every step of the way.
Training
Zones provides you with go-live training after installation and testing are complete. Self-service kiosks are designed to be intuitive and easy to use. Still, it's important that your staff can help customers if needed.

24/7 Technical support
If there's a problem with a kiosk, you can contact the Zones service desk via chat, email, and phone anytime. We can often diagnose problems remotely. If a replacement part is needed, we'll take care of that for you and schedule a technician for installation and testing.
Make your customer experience your retail advantage.
With Zones, you'll get everything you need for self-service retail kiosks that engage customers and improve your bottom line.