TigerText
Simplifying and securing enterprise messaging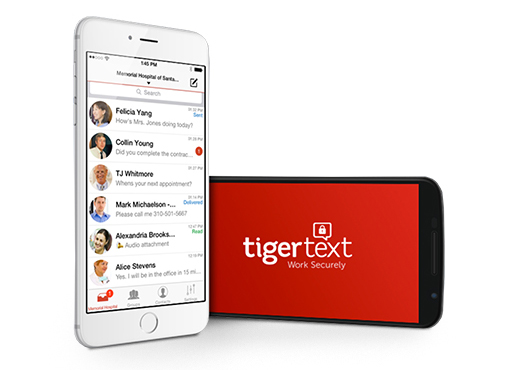 For enterprises, the advent of mobile devices has accelerated business decision-making and turned any location into a mobile office. This freedom has transformed business workflows and created new security and privacy risks.
To learn more about how to get TigerText set up with your enterprise, contact your Zones account executive or call 800.408.4663.
Enter TigerText. The secure messaging solution that not only protects, but simplifies the increasingly complex enterprise communications environment. TigerText empowers enterprise security and control for the mobile workforce, allowing organizations to transform their business workflows while complying with industry regulations.
Protect your most important assets
With a layered end-to-end encryption model, TigerText protects your communications without compromising the user experience.
Transform your workflow
Accelerate your business workflows by empowering secure communication at every point. Increase productivity by knowing when messages are delivered and read.
Comply with your industry regulations
SOX, FINRA, HIPAA and more have created an alphabet soup of compliance requirements for enterprise communications. Solve the puzzle easily with TigerText.
TigerText provides a secure messaging communication platform that works across all smartphones, tablets, and any web enabled computer or laptop.
Send secure messages that automatically expire
Messages that are not deliverable within 5 minutes(due to patchy WiFi or cell coverage) are escalated and notifications of an awaiting secure message are sent via SMS or email
Access multiple TigerText inboxes from a single drop down menu
Securely exchange messages with contacts outside your network
Know instantly if a message has been delivered and read to individuals or groups
Recall a message and all attachments before or after it has been read
Collaborate better by creating groups on the fly
Attach files, images, video, even record and attach voice notes
Access TigerText on your preferred device type – smartphone, tablet, or computer
Integrate with existing systems like EHR/EMR, mobile device management (MDM), LDAP/Active Directory, scheduling, paging, and answering services