LG's selections of hospital grade televisions are convenient for both patients and hospital staff, easy to manage and maintain, and hospital safety standard compliant.
LG strives to meet the demand for products with environmentally friendlier features, built with technologies to reduce power and consumption and in return increase cost savings per room.
LY560M Series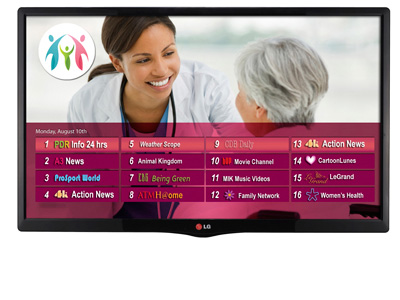 MHL (Mobile High-Definition Link) connects smart phones to the TV instantly, mirroring content in HD quality, allowing you to control the phone's content on the TV with a remote control. The Quick Set-up Wizard and Self-Diagnostics make it easy to manage and maintain the LY560M series.
PRO:Centric Applications Platform
Hospital Safety Standard Compliant
Mobile High-Definition Link
Nurse Call System
Single Tuner
Pillow Speaker
USB Cloning
Free-To-Guest Remote Management Functions
LY560M Series Products:
LY770M Series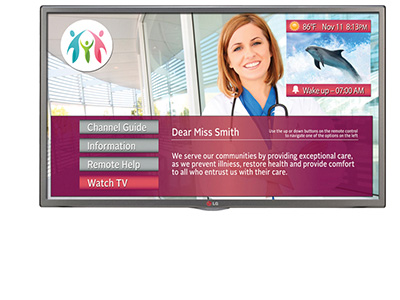 Smart share allows you to enjoy and share content stored on your laptop, digital cameras, smartphones and other devices to the TV seamlessly. Built-in WiFi brings greater connectivity and access to and from the TV.
PRO:Centric Applications Platform
Pillow Speaker
Dual Tuner
Built-in WiFi
Smart Share
USB Cloning
Hospital Safety Standard Compliant
Free-To-Guest Remote Management Functions
Nurse Call System
LY770M Series Products: