Exceptional. Expertise.
Our unique standing as a Microsoft Cloud Solution Provider (CSP) and Microsoft Licensing Solution Partner (LSP) gives you access to expertise and resources not typically offered together by a single source, so you can enjoy our expanded capabilities including fast provisioning, comprehensive technical and managed services, and direct billing.
With CSP, Zones manages your complete lifecycle, making it easy for you to purchase and use Microsoft 365, Office 365, Enterprise Mobility & Security, Dynamics 365, and Azure and maximize their potential with a personalized solution tailored to the way you do business.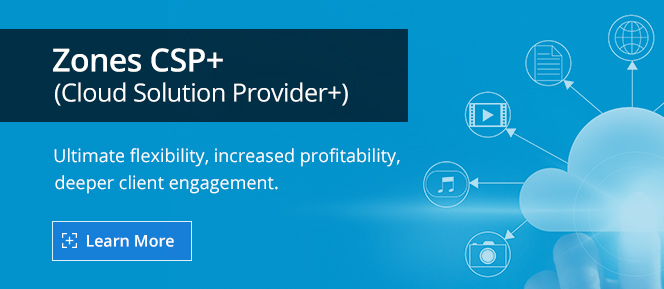 Want to find out more about Microsoft solutions? Just fill out the form to start a conversation with our Microsoft experts.
Reduce expenses
Plus, eliminate overlapping services by architecting a public, private, or hybrid cloud solution – all on a single invoice.
Increase efficiency
Combine public cloud, private cloud, and IT services with a single provider that understands your business' needs.
Retain control
You'll have no limits on admin privileges, which means you'll be in total control of your Office 365 environment.
24/7 support
Enjoy around-the-clock support, backed by proactive management and monitoring, to minimize downtime and delays.
Zones offers a range of advantages before, during, and after implementation.
A dedicated cloud team
Convenient monthly billing
Flexibility to add/change/delete at will
Cloud readiness assessments
Implementation planning
A cloud migration team
Managed Services
Digital transformation management
Cloud workload assistance