Endpoint System Management
Manage, maintain, and secure endpoints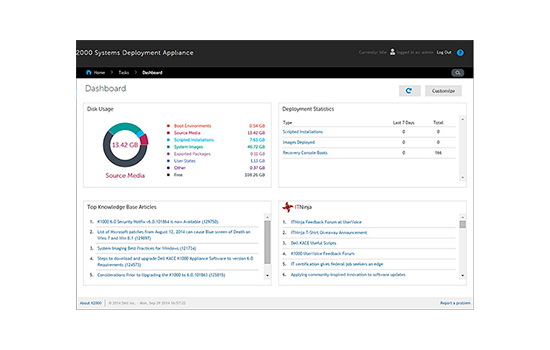 Quest's easy-to-use, fast-to-implement appliances provide comprehensive endpoint systems management. Capabilities include streamlined OS provisioning, automated network discovery of software and hardware inventory, asset management, endpoint security and patching, application software distribution and maintenance, and a fully integrated service desk.
Leverage Zones expertise and Quest partnership to help you select the right endpoint system management. Contact your Zones account manager or call 800.408.9663 to learn more about Quest solutions.
KACE K2000 System Deployment Appliance
Quickly and easily perform initial provisioning and ongoing administration of system images and driver updates across diverse hardware platforms - reducing operational costs and ensuring end user productivity. The KACE K2000 Systems Deployment Appliance automates large-scale system deployment and simplifies migrations of multiple operating systems, freeing your time to focus on other high priority projects.
KACE K1000 System Management Appliance
Streamline IT asset management, secure network-connected devices, and service end-user systems more efficiently. It's all possible with the industry's only appliance-based comprehensive endpoint systems management solution built for growing organizations.