Identity and Access Management
Identity and access management for the real world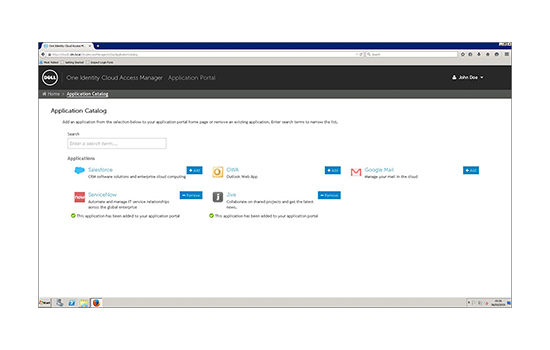 Quest solutions enhance business agility while addressing your IAM challenges with on-premises, cloud, and hybrid environments. Achieve easier accountability and greater transparency with IAM that places the business in control of those things that matter most.
Contact your Zones account manager or call 800.408.9663 to learn more about Quest identity management solutions.
Active Roles
Simplify the security and protection of Active Directory (AD) to solve security issues and meet compliance requirements with the help of Active Roles. It helps overcome AD's native limitations. You can enjoy a new level of efficiency with its automated management of users and groups, as well as delegation tasks.
Cloud Access Manager
Cloud Access Manager (CAM) is a web-access management solution that offers secure and unified access to all your internal and cloud-based web applications while simultaneously enhancing security and IT efficiency.
Defender
Defender enhances security by requiring two-factor authentication to gain access to your network resources using your current identity store within Microsoft Active Directory (AD). It takes advantage of AD's inherent scalability and security to eliminate the time and expense involved with setting up and maintaining proprietary databases.
Enterprise Single Sign-on
Enterprise Single Sign-on enables your organization to streamline both end-user management and enterprise-wide administration of single sign-on (SSO). It bases application and system user logins on your existing Active Directory identities, so there's no infrastructure for you to manage.
Identity Manager
Govern identities. Secure data. Get more done with less. Now, identity and access management (IAM) can be driven by business needs, not IT capabilities. With Identity Manager and its modular and scalability capabilities, you can unify security policies, meet compliance needs, and achieve governance while improving business agility.
Identity Manager - Data Governance Edition
Identity Manager - Data Governance Edition protects your organization by giving access control to the business owner rather than the IT staff. The business owner can grant access to sensitive data. With the Identity Manager restricted access functionality, you define access policies for your organization.
One Identity as a Service
One Identity as a Service is offered as three individual modules, each 1IaaS module can relieve your IT staff of the significant manual identity administration work. Best of all, it can do it without the additional burden of on-premises infrastructure, in-house maintenance of an IAM solution, dedicated and specialized staff, or significant capital costs.
Password Manager
Password Manager provides a simple, secure, self-service solution that enables end users to reset forgotten passwords, and unlock their accounts. Now your organization can implement stronger password policies while reducing help desk workload. With Password Manager, there's no need to sacrifice security to reduce costs.
Privileged Access Suite for Unix
Privileged Access Suite is a one-stop shop for UNIX security that combines Active Directory bridge and root-delegation solutions in one console. It consolidates and unifies UNIX, Linux, and Mac OS X identities. Plus, it assigns individual accountability, enables least-privilege access, and centralizes access reporting of the UNIX root account.
Privileged Password Manager
With Privileged Password Manager, you can automate and control the process of granting access to privileged accounts and passwords. These extremely critical credentials are only granted if established policy is followed and if required approvals are received. Privileged Password Manager tracks all activity and ensures that passwords are changed immediately upon return.
Privileged Session Manager
Deployed on a secure, hardened appliance, Privileged Session Manager allows you to grant access to administrators, remote vendors and high-risk users for a specific period - or session - with full recording and replay capabilities. It gives you a single point of control to authorize connections, view active connections, limit access to specific commands and resources, be alerted if connections exceed pre-set time limits and you can even terminate connections.