Success in the cloud starts right here on earth.
Let's face it, your first and most important step is detailing and documenting all the interwoven technical, operational, security, regulatory, and financial factors that underlie your current operation. Our team offers a variety of assessments from learning your options for cloud backup to migrating applications to the cloud. Our assessments will give you the clarity and confidence to keep moving onward and upward.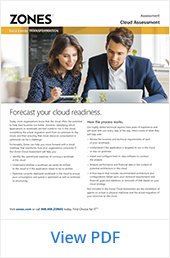 Zones Cloud Assessment
Today, most organizations know that the cloud offers the potential to help their business run better. However, identifying which applications or workloads are best suited to run in the cloud, completing the actual migration work from on-premises to the cloud, and then ensuring that cloud resource consumption is optimized can be a challenge.

Fortunately, Zones can help you move forward with a cloud roadmap that transforms how your organization consumes IT. Our Zones Cloud Assessment will help you:
Identify the operational expenses of running a workload in the cloud
Understand whether a workload can easily be shifted to the cloud or if the application needs to be re-written
Optimize currently deployed workloads in the cloud to ensure your consumption and spend is optimized as well as workload restructuring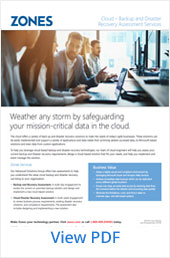 Cloud Backup & Disaster Recovery Assessment
To help you leverage cloud-based backup and disaster recovery technologies, the Zones team of cloud engineers will help you assess your current backup and disaster recovery requirements, design a cloud-based solution that fits your needs, and help you implement and event manage the solution. We offer two assessments:
Backup and Recovery Assessment: A multi-day engagement to review the current on-premises backup solution and design and implement a new cloud-based solution.
Cloud Disaster Recovery Assessment: A multi-week engagement to review business process requirements, existing disaster recovery solutions, and compliance requirements. The assessment also includes designing and implementing a new solution.