Vulnerability Management Services
Comprehensive, proactive testing and analysis to defend against cyberthreats and maintain a strong and secure IT infrastructure
Organizations large and small face IT vulnerabilities. From the network firewall to critical web servers and applications, the risk is high with nation-state actors and organized criminals looking to take your intellectual property and ransom you for big monies.
No doubt, you've seen the stories about ransomware and other cybersecurity attacks putting businesses in a chokehold. A data breach that exposes sensitive information doesn't just harm your business operations and reputation. It can also become a serious liability with lawsuits in tow. And depending on your industry, you may also be subject to fines for failing to meet regulatory data protection compliance requirements such as SOX, HIPAA, PCI, GDPR, Gramm-Leach, and FedRAMP.
The complexity of perimeters, networks, systems, and applications continues to grow. With Continuous Integration and Continuous Development (CI/CD), and the daily discovery of new exploits, the United States Government is encouraging organizations to properly secure their environments. They are even pushing for Continuous Authorizations to Operate (CATO) solutions.
With limited IT staff and in-house expertise, many organizations now outsource threat identification and vulnerability management to a comprehensive services provider. Doing so not only reduces your operational burden, but it also frees your staff to focus more of their time and energy on core business processes and growth initiatives.
Why Choose Zones
We have a healthy obsession with security. Network security. System security. Application security. Data security.
From Zones' state-of-the-art global facilities, our trusted IT security experts follow a structured, proactive approach to vulnerability management. As your services provider, we will:
Provide comprehensive testing of your IT infrastructure, including applications, servers and network components, to proactively enhance your IT security posture
Analyze test results to uncover vulnerabilities in your IT infrastructure at the OS, applications and network level and reduce your information and infrastructure security risk
Help you comply with regulatory standards and improve overall operational efficiency
End-To-End Support

Zones will perform comprehensive vulnerability scanning and reporting in which we:
Assess your security posture
Identify gaps and check for potential risks
Identify false positives
Provide further analysis of vulnerabilities
We'll go through the reports with you. You'll have 45 days to complete threat remediation, after which we will re-scan for those vulnerabilities we identified.
False Positive Analysis
Identification of false positives plays an important role in vulnerability management. Our thorough analysis eliminates false positives, greatly reducing the time and energy you spend on unnecessary remediation fixes.
Risk Analysis

We will provide a risk analysis for every major vulnerability. Each analysis describes the business impact of the vulnerability and recommends steps to remediate the problem.
Zones' Approach To Web Application Penetration Testing
Zones' approach combines the use of automated penetration testing tools with a manual technical security assessment to identify vulnerabilities in your:
Web applications
Web services
Mobile and thick client applications
With this approach, we're able to identify all the common vulnerabilities indicated by the leading industry frameworks, including the Open Web Application Security Project (OWASP) standard. Our application security assessment services employ a five-part methodology (see illustration ).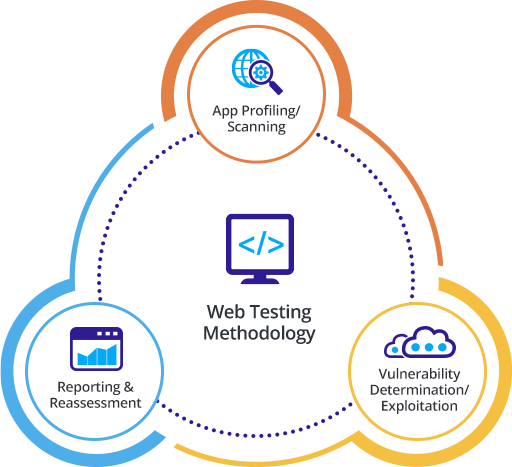 Take your first step to comprehensive vulnerability management. Contact Zones to request a vulnerability assessment with penetration testing.