Foglight
Monitor, manage, and resolve performance issues across your infrastructure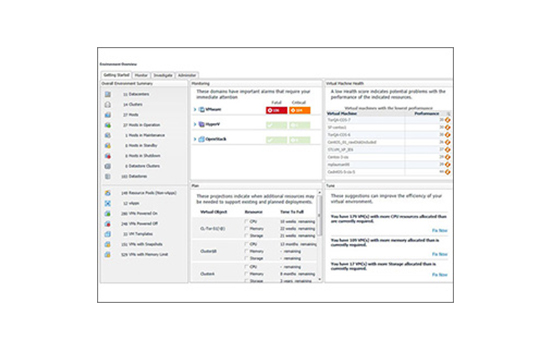 Quest's Foglight family of products easily integrates with your existing tools, so you can monitor and analyze data from almost any source across your infrastructure and view it through a single interface with their customizable, unified monitoring platform. You will be able to zero in on what matters most to your organization and view data in ways that are relevant to your business, giving you the visibility you need without killing productivity.
Contact your Zones account manager or call 800.408.9663 to learn more about Quest software management solutions.
Features
Infrastructure performance monitoring
Optimize the configuration, performance and utilization of your hypervisors, VMs and storage while gaining end-to-everything visibility across your virtual infrastructure. Leverage real-time and historical data and reporting capabilities to inform your decision making and get critical insights into your future capacity needs. And consistently manage your diverse operating systems and unify your disparate IT infrastructure with a single, centralized platform.
Application performance monitoring
Ensure a positive user experience through proactive application performance monitoring. Pinpoint the root cause of incidents and quickly resolve issues to minimize downtime. Reduce the risks associated with new application launches and technology upgrades, so you can deliver on user satisfaction and support the needs of your organization.
Database monitoring
Ensure optimal database performance with comprehensive database monitoring and advanced workload analytics. Consolidate and standardize database performance management across your diverse multi-platform environments to promote collaboration, improve service levels, and reduce costs.
ERP monitoring
Swiftly detect and solve application performance problems before they affect users. Gain visibility into Siebel, PeopleSoft, and Oracle E-Business Suite (EBS), from the end users through the application servers and databases. View your entire application stack in context to identify and resolve issues before availability problems affect your customers.