Dell SonicWALL Next Generation Firewall
Bolster protection against the constantly changing threat environment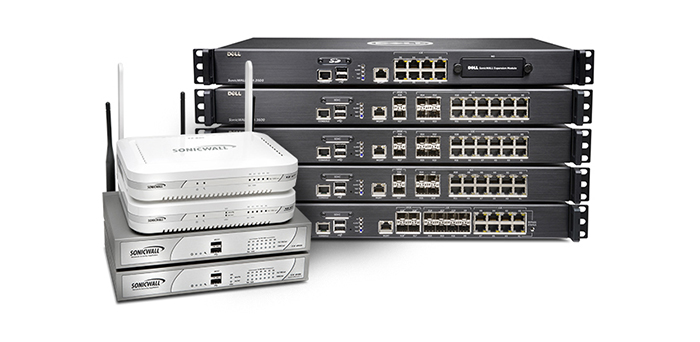 Dell SonicWALL high-performance firewall appliances seamlessly integrate intrusion prevention, malware protection, application intelligence, control and visualization, IPSec VPN, SSL VPN, wireless controllers and many other features to deliver comprehensive protection and maximum performance to address any size deployment from enterprise to SMB.
Learn more about how Dell SonicWALL network security solutions block threats, not performance. Contact your Zones account manager or call 800.408.9663.
Dell® SonicWALL® provides intelligent network security and data protection solutions that enable customers and partners to dynamically secure, control, and scale their global networks.
Dell SonicWALL network security and data protection solutions, available for the SMB through the Enterprise, are deployed in large campus environments, distributed enterprise settings, government, retail point-of-sale and healthcare segments, as well as through service providers.
TZ Series Unified Threat Management Firewall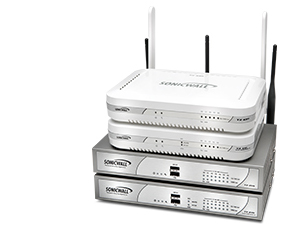 Dell SonicWALL TZ Series represents one of the most secure, scalable and widely deployed small business firewall platforms on the market today. Combining intrusion prevention, gateway anti-virus, anti-spyware, content/url filtering, enforced client anti-virus, and anti-spam services, the Dell SonicWALL TZ Series provides advanced UTM protection for small businesses, retail, government, remote sites and branch offices.
NSA Network Security Appliance Series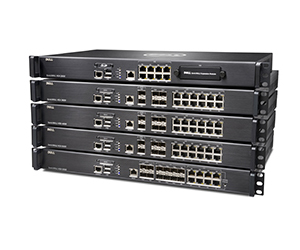 Enterprise-class security and performance made affordable for small- to medium-sized business.
The NSA Series offers industry leading next-generation firewall protection, performance, and scalability. NSA Series appliances integrate automated and dynamic security capabilities into a single platform, combining the patented, SonicWALL Reassembly Free Deep Packet Inspection™ (RFDPI) firewall engine with a powerful, massively scalable, multi-core architecture. Now you can block even the most sophisticated threats with an intrusion prevention system (IPS) with advanced anti-evasion capabilities, SSL decryption and inspection and network-based malware protection that leverages the power of the cloud.
SonicWALL Customer Testimonial: Aaron's, Inc.
Learn how Aaron's Inc. boosted employee productivity and protected their organization with Dell SonicWall
Aaron's Inc., saves over $1 million annually with Dell SonicWALL solutions by connecting its 1,800 distributed retail sites over secure VPN. Aaron's minimized bandwidth costs, while gaining flexibility and granular security. With the increased visibility and granularity of their reporting, Aaron's was able to identify and deprioritize social networking traffic in favor of business critical systems, leading to a quantifiable boost in employee productivity.
Content Filtering Coverage: Are You In, Out or Both?
Learn how content filtering can increase productivity and decrease bandwidth requirements for your network
Granular content filtering allows the administrator to block or apply bandwidth management to all pre-defined categories or any combination of categories. Easy-to-use web-based management enables flexible policy configuration and complete control over Internet usage. Administrators can enforce multiple custom policies for individual users, groups or specific category types. To block objectionable and unproductive material more effectively, administrators can also create or customize filtering lists.
Dell SonicWALL NSA Series
The NSA Series Next-Generation Firewall provides security, reliability, and performance for distributed enterprises, small- to medium-sized organizations, branch offices, school campuses, and government agencies. The NSA Series minimizes deployment cost and complexity by integrating multiple technologies into a single security appliance.
Dell SonicWALL E-Class NSA Series
The Dell SonicWALL E-Class Network Security Appliance (NSA) Series provides next-generation firewall protection and advanced application control and visualization for large network deployments.
Dell SonicWALL SuperMassive E10000 Series
Deliver scalability, reliability and deep security for 10+ Gigabit networks at very large data centers, carriers, and service providers. The field-upgradeable Dell SonicWALL SuperMassive E10000 Series offers the best concurrent connections and connections per second, and best Gbps/Watt for application control and threat prevention.
Dell SonicWALL SuperMassive E9000 Series
Ensure the protection, performance and scalability necessary for today's 10+ Gigabit enterprise infrastructures. The Dell SonicWALL SuperMassive 9000 Series Next-Generation Firewall uses high-core-density architecture in an elegant, one-rack appliance, saving rack space and lowering power and cooling costs.
View all Dell SonicWALL next gen firewalls
View all Dell SonicWALL products