Microsoft Windows Server 2016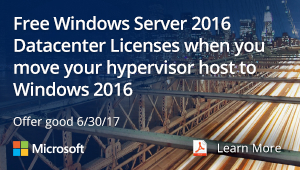 Bring cloud speed to your data center
With the 2016 wave of hybrid data center solutions, Microsoft is bringing cloud-inspired technologies to the traditional data center. New and enhanced features can help you make the most of your existing resources while delivering innovation to your customers.
From the software-defined data center to the application platform, Windows Server 2016 offers new investments in cloud technology that can benefit your data center today.
Explore your licensing and deployment options with the Microsoft specialists at Zones. For more information or to place an order, contact your Zones account executive directly or call 800.408.9663.
Windows Server 2016 brings you new advanced features to further extend software-defined data center capabilities. Advances in storage, networking, and compute are all fully integrated into the platform to give you the foundation you need to meet business requirements.
Reduce your data center footprint and attack surface with Nano Server, a new deployment option for Windows Server 2016 that is up to 25x smaller than a full Windows Server deployment
Make innovation easier with modern application platform capabilities for Windows Server Containers and – new in this technical preview – Hyper-V Containers
Help prevent attacks with powerful security-enhanced features, including shielded virtual machines, Host Guardian Service, and just-enough and just-in-time administrative privileges
Reduce costs with improved, modern, software-defined datacenter capabilities, across storage, networking, and compute
Versions available:
Ideal For
High Density Virtualization
Low Density or No Virtualization
Cloud-enabled first server
Virtualization

Unlimited Instances

Simplified licensing
Cloud level scale at lower cost

Two Intances

Host any Windows Server OS
Uses Hyper-V Replica formulate mode disaster recovery

One Instance

Host Windows Server Essentials OS

Licensing
Processor + CAL
Processor + CAL
Server (25 User Limit)
Pricing
$6,155
$882
$501