Power 795
Extraordinary scale, capacity and bandwidth for the most demanding enterprise applications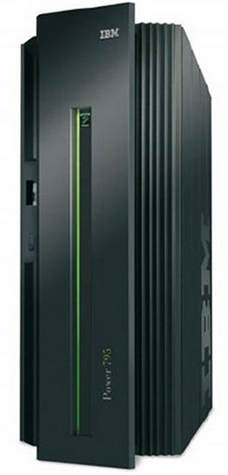 Every large enterprise relies on critical information. This information is derived from financial data, customer data and enterprise resource data that are held across multiple lines of business. Insights from this enterprise-wide critical information fuel both the core business processes and new services that redefine the customer experience in the large enterprise.
To transform the management of this critical information and processes, these organizations rely on enterprise systems that are at the center of their IT infrastructure. These enterprise systems are defined by their ability to deliver trusted information across the enterprise, ensuring continuous transaction availability and enabling real-time business analytics. They provide the highest levels of security, ensuring the integrity of critical information while mitigating risk and meeting regulatory compliance mandates. And they deliver the utmost in infrastructure efficiency at enterprise scale, with flexible delivery models and dynamic resource management that can increase utilization while reducing operational costs.
Learn more about the sophisticated capabilities of IBM Power Systems by contacting your Zones account executive or calling 800.408.9663.
The IBM Power 795 server is one of these enterprise systems. The Power 795 supports large-scale transaction processing and database applications within a highly virtualized system infrastructure, enabling new levels of workload consolidation, resource utilization, resiliency and efficiency. As the most powerful member of the IBM Power Systems™ family, this server provides exceptional performance, massive scalability and bandwidth to efficiently and concurrently support a full range of complex, mission-critical applications.
Highlights
For large-scale server consolidation to increase flexibility and lower operational and energy cost
For enterprises requiring the highest levels of resiliency for their mission-critical applications
For data centers supporting the largest UNIX and IBM i transaction processing and database applications
Get the technology you need now without having to pay for it all up front.
Lease it from Zones!
Learn more