TS3500 Tape Library
A highly scalable, automated tape solution addresses data protection and long-term retention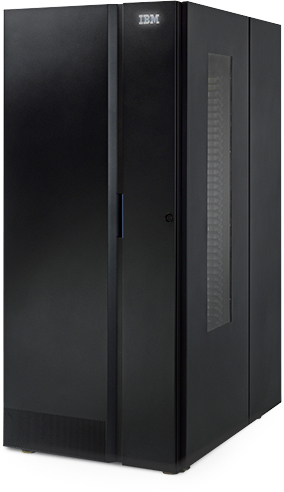 The IBM TS3500 tape library is designed to provide a highly-scalable, automated tape library for mainframe and open-systems backup and archive that can scale from midsized to large enterprise environments.
Highlights
Support highly-scalable, automated data retention on tape using Linear Tape-Open (LTO) Ultrium and IBM 3592 tape drive families
Deliver extreme scalability and capacity, growing from one to 16 frames per library and from one to 15 libraries per library complex
Provide up to 2.25 exabytes (EB) of automated, low-cost storage under a single library image, improving floor space utilization and reducing storage cost per TB with IBM 3592 JD enterprise advanced data cartridges
Enable data security and regulatory compliance via support for tape drive encryption and write-once-read-many (WORM) cartridges
Learn more about the sophisticated capabilities of IBM storage solutions that increase efficiency and performance. Contact your Zones account executive or call 800.408.9663.
TS3500 continues to lead the industry in tape drive integration with features such as persistent worldwide name, multipath architecture, drive/media exception reporting, remote drive/media management and host-based path failover.
The L23 and D23 frames support IBM TS1150, IBM TS1140, IBM TS1130, IBM TS1120 or IBM 3592 J1A tape drives. The L53 and D53 frames support LTO Ultrium 6 tape drives as well as previous-generation LTO Ultrium tape drives. L-frame models support improved cartridge handling, hot-swappable drive packaging and the option of an additional 16-slot I/O station. The TS3500 model D23 and D53 frames can be attached to existing model L22 or D52 frames. Mixed media is supported by combining LTO Ultrium tape drives and TS1150, TS1140, TS1130, TS1120 or 3592 J1A tape drives within the TS3500 library, frame by frame.
Get the technology you need now without having to pay for it all up front.
Lease it from Zones!
Learn more