TS1130 Tape Drive
Addresses information security, retention and compliance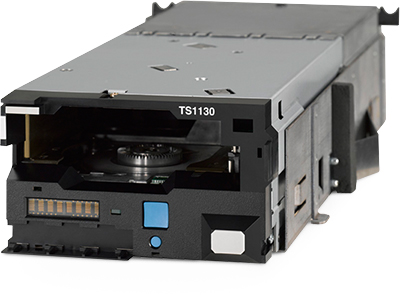 Marketplace and customer demands require applications that rely on high capacity, fast access to data or long-term data retention. The IBM System Storage TS1130 Tape Drive (TS1130 tape drive) features storage capability to help you establish easy access to data, better security, long-term retention and data governance and regulatory compliance.
The TS1130 tape drive offers high-performance flexible data storage with support for data encryption. The TS1130 tape drive can help youprotect your investments in tape automation by offering compatibility with existing automation. To further protect your investment, an upgrade model is available for your existing IBM System Storage TS1120 Tape Drives. And to support a heterogeneous server environment, the TS1130 offers multiplatform support.
Learn more about the sophisticated capabilities of IBM storage solutions that increase efficiency and performance. Contact your Zones account executive or call 800.408.9663.
Highlights
Provides information security with support for encryption and key management
Optimizes information retention with support for existing IBM tape automation
Supports Write Once Read Many (WORM) cartridges to help satisfy compliance requirements
Offers high performance and high capacity for storage consolidation
The TS1130 Tape Drive supports IBM System Storage TS3400 and TS3500 Tape Libraries, IBM TotalStorage 3494 Tape Libraries, IBM Virtualization Engine TS7700, IBM racks that enable stand-alone installation, and IBM 3952 Tape Frames Model C20 (3952C20 frame) attached to a Sun 9310 library.
For fast access to data, limited capacity (128 GB)
To reduce resources to lower total cost, standard capacity (640 GB)
For long-term retention, extended capacity (1 TB)
Get the technology you need now without having to pay for it all up front.
Lease it from Zones!
Learn more