Power System E880
Designed to support the most mission-critical applications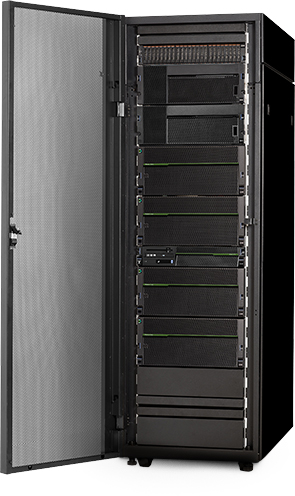 Data is emerging as the world's newest natural resource and the basis for a new kind of competitive advantage. Yet, for many organizations, the increasing volume, variety and influx of data are straining their traditional IT infrastructures that were never designed to handle the magnitude of complexity in these new workloads. To keep up with the fast pace of today's business climate, it is essential for organizations to capitalize on next-generation infrastructures that integrates analytics-optimized systems and technologies to dynamically meet the demands of a data driven world.
The IBM Power E880 enterprise server is designed to provide the highest levels of reliability, availability, flexibility and performance in order to provide clients with a world-class enterprise private and hybrid cloud infrastructure. Through enterprise-class security, efficient built-in virtualization that drives industry-leading workload density, and dynamic resource allocation and management, the Power E880 server consistently delivers the highest levels of service across hundreds of virtual workloads on a single system.
Learn more about the sophisticated capabilities of IBM Power Systems by contacting your Zones account executive or calling 800.408.9663.
Highlights
Delivers twice the performance per core versus the competition, with enterprise scalability for the most demanding data centric applications
Manages fluctuating business demands with dynamic, on-demand private cloud capacity
Minimizes risk with secure delivery of data and services on a proven, reliable platform
Enables open innovation and choice for AIX, IBM i and Linux
Built-in virtualization and innovative resource sharing to streamline deployment and increase responsiveness
Built for your most complex, mission-critical business priorities
Bring insights to the point of impact faster through a data-centric design
Process big data in memory with 16 TB memory
Improve IT economics and efficiently deliver business services with scalable, open private and hybrid cloud
Manage fluctuating business demands with dynamic resource sharing through Power Enterprise Pools
Simplify management of Linux applications using new, faster Power IFLs
Performance based on published SPEC industry benchmarks SPECjbb2013 and SPECfp_rate2006 comparing a Power E870 (80-core, 4.19 GHz) vs. systems using Intel Xeon E7-4890 v2 (Ivybridge-EX) or SPARC T5 processors, as of October 6, 2014.
Get the technology you need now without having to pay for it all up front.
Lease it from Zones!
Learn more