Storwize V7000 Unified & Storwize V7000 Disk Systems
Transforming the economics of data storage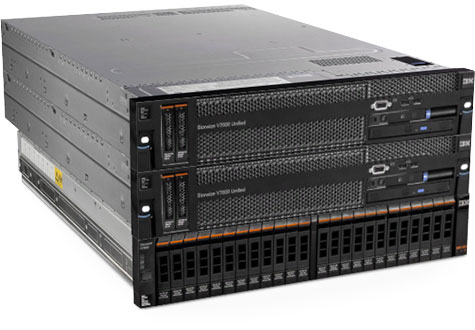 IBM Storwize V7000 Unified and Storwize V7000 provide the latest storage technologies for unlocking the business value of stored data, including virtualization and Real-time Compression. In addition, the systems include a powerful new hardware platform that can support the massive volumes of data created by today's demanding cloud and analytics applications. They are designed to deliver outstanding efficiency, ease of use and dependability for organizations of all sizes.
Learn more about the sophisticated capabilities of IBM storage solutions that increase efficiency and performance. Contact your Zones account executive or call 800.408.9663.
Benefits
Hardware Accelerated Real-time Compression: Reduce storage acquisition costs up to half by using up to 80% less disk and flash capacity
File support: Consolidates block and file storage in a system for simplicity and greater efficiency (Storwize V7000 Unified only)
Active Cloud Engine: Enables highly-efficient policy-based management of files to reduce costs through use of tiered storage (Storwize V7000 Unified only)
Clustered systems: Ability for block systems to both scale up and out for performance and capacity
Deploy with confidence: Available IBM performance and capacity guarantees help you focus on your business, not your storage
Automated storage tiering with IBM Easy Tier: Advanced technology for automatically migrating data between storage tiers based on real-time usage analysis patterns
IP replication: Reduces remote mirroring costs with innovative network optimization
New generation GUI: Easy-to-use data management designed with a graphical user interface and point-and-click system management capabilities
Highlights
Meet changing business needs with virtualized, enterprise-class, flash-optimized modular storage
Transform the economics of data storage with hardware-accelerated data compression
Leverage integrated support for file and block data to consolidate workloads
Optimize performance with automated storage tiering
Improve network utilization for remote mirroring with innovative replication technology
Deploy storage quickly with easy-to-use management tools and built-in support for leading software platforms
Easy-to-use data management designed with a graphical user interface and point-and-click system management capabilities
Metro Mirror and Global Mirror for replicating data synchronously or asynchronously between systems for backup efficiency
Optimized for both internal flash drives and external IBM FlashSystem™ storage
RAID 0, 1, 5, 6 and 10
Data is the new currency of business, the most critical asset of the modern organization. In fact, enterprises that can gain business insights from their data are twice as likely to outperform their competitors; yet, 72 percent of them have not started or are only planning big-data activities. In addition, organizations often spend too much money and time managing where their data is stored. The average firm purchases 24 percent more storage every year, but uses less than half of the capacity it already has.
The simple fact is that infrastructure matters. The right infrastructure allows organizations to shift spending and invest in projects that improve business results. The infrastructure must ensure the most value from data at the least cost with the least effort and the greatest flexibility.
In the era of cloud, big data and analytics, and mobile and social computing, organizations need to meet ever-changing demands for storage, while also improving data economics. IT must deliver more services faster and more efficiently, enable real-time insight and support more customer interaction. The right infrastructure allows clients to share information, secure transactions and drive real-time insights.
Get the technology you need now without having to pay for it all up front.
Lease it from Zones!
Learn more