TS1140 Tape Drive
Addresses data protection and long term retention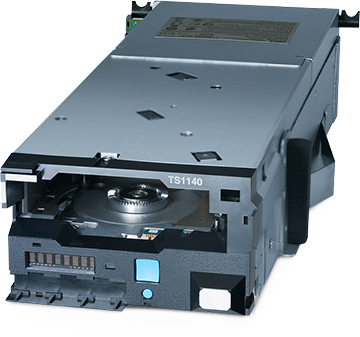 Business demands require applications that rely on high capacity and fast access to data as well as long-term data retention. The IBM TS1140 tape drive features storage capabilities to help you establish easy, rapid access to data, improve security, provide long-term retention, and help maintain data governance and regulatory compliance. TS1140 offers high-performance, flexible data storage with support for data encryption. The drive can help you protect your investments in tape automation by offering compatibility with existing automation. To further protect your investment, an upgrade model is available for your existing IBM TS1130 tape drives. For flexible storage in heterogeneous server infrastructures, TS1140 offers multiplatform support and can scale from midrange to enterprise environments.
Learn more about the sophisticated capabilities of IBM storage solutions that increase efficiency and performance. Contact your Zones account executive or call 800.408.9663.
Highlights
Leverage high-performance, high-capacity tape processing for storage consolidation
Help enhance information security with support for encryption and key management
Improve information retention with support for existing IBM tape automation
Support Write Once Read Many (WORM) cartridges to help satisfy compliance requirements
TS1140 supports IBM TS3500 and IBM TS4500 tape libraries as well as IBM racks that enable stand-alone installation. TS1140 features three options for Type C media. The IBM 3592 Advanced data tape cartridge, JC, provides up to 4 TB native capacity, and up to 4 TB are provided by the IBM 3592 Advanced WORM cartridge, JY. A limited capacity of up to 500 GB IBM 3592 Economy cartridge, JK, offers fast access to data. TS1140 can also read and write on previous media, type B (JB and JX), and read only on type A (JA, JW, JJ and JR).
To help optimize drive utilization and reduce infrastructure requirements, TS1140 can be shared among supported open-system hosts on a storage area network (SAN) or between IBM FICON® mainframe hosts when attached to the IBM Tape Controller Model C07 for IBM System z.
Get the technology you need now without having to pay for it all up front.
Lease it from Zones!
Learn more