Power System E870
Scalable enterprise server for critical applications, with open innovation for private clouds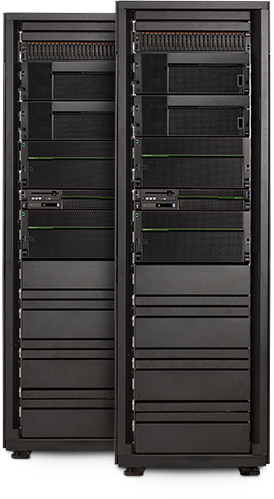 The emerging measures of IT performance focus on agility to enable growth and respond to change, while effectively managing risk and resources. Expectations continue to rise for increased service levels and secure application access, as data explodes and budgets are squeezed. At the same time, more complex application architectures and the current rate of change create unforeseen challenges that strain even the most talented IT teams in the industry.
The IBM Power E870 is a high-performance, secure, enterprise system optimized for the compute-intensive performance demands of large-scale, mission-critical transaction, database and analytics applications. With up to 80 IBM POWER8 processors, up to 8 TB of memory, an efficient modular design, built-in IBM PowerVM virtualization technologies and Capacity on Demand innovation, the Power E870 server can consistently sustain high service levels across hundreds of virtual workloads on a single system.
Learn more about the sophisticated capabilities of IBM Power Systems by contacting your Zones account executive or calling 800.408.9663.
Highlights
Delivers twice the performance per core of competitors, with enterprise scalability for the most demanding data-centric applications
Manage fluctuating business demands with dynamic, private cloud capacity
Minimize risk with secure delivery of data and services on a proven, reliable platform
Streamline deployment and increase responsiveness with built-in virtualization and innovative resource sharing
Increase energy efficiency with more performance-per-watt
Open innovation for Linux, AIX® and IBM i
Performance based on published SPEC industry benchmarks SPECjbb2013 and SPECfp_rate2006 comparing a Power E870 (80-core, 4.19 GHz) vs. systems using Intel Xeon E7-4890 v2 (Ivybridge-EX) or SPARC T5 processors, as of October 6, 2014.
Get the technology you need now without having to pay for it all up front.
Lease it from Zones!
Learn more