TS2250 Tape Drive
Fifth-generation, high capacity, half height Tape Drive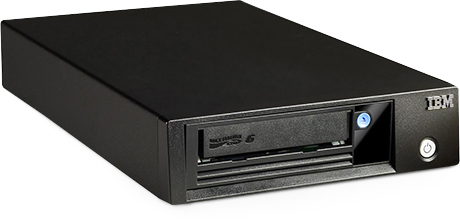 Today, data is a key corporate asset in all types of businesses. The ability to access data quickly and reliably is critical to your success. The main challenge for midmarket chief information officers (CIOs) is how to cost-effectively store, archive and retrieve an explosion of new information; how to protect and secure that information; and how to meet compliance requirements and make information accessible for business insight, where and when it's needed.
The IBM TS2250 tape drive – the entry-level IBM tape product family offering – is the answer to growing storage requirements. Incorporating the industry-leading LTO Ultrium technology, the TS2250 tape drive is suited for handling backup, save and restore, and archival data storage needs with higher capacity and higher data transfer rate than previous generations. In addition, IBM LTO Ultrium 5 technology is designed to support media partitioning, and LTFS technology. It also continues to support encryption of data and write-once-read-many (WORM) media.
Learn more about the sophisticated capabilities of IBM storage solutions that increase efficiency and performance. Contact your Zones account executive or call 800.408.9663.
Highlights
Help reduce costs with lower power consumption, consolidation and space reduction
Support media partitioning on Linear Tape-Open (LTO) Ultrium 5 media
Simplify data management with IBM® Spectrum Archive™ utilizing IBM Linear Tape File System™ (LTFS) technology
Plug-and-play with SuperSpeed USB 3.0 option
Address backup and archiving requirements with lower cost implementation
Get the technology you need now without having to pay for it all up front.
Lease it from Zones!
Learn more