TS7650G ProtecTIER Deduplication Gateway
Powerful data deduplication for improved backup and disaster recovery operations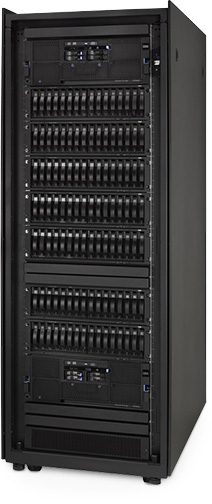 The IBM System Storage TS7650G ProtecTIER Deduplication Gateway is designed to meet the disk-based data protection needs of the enterprise data center while enabling significant infrastructure cost reductions. The solution offers industry-leading inline deduplication performance and scalability up to 1PB (petabyte) of physical storage capacity per system, and can provide up to 25PB or more backup storage capacity. Combined with IBM or third-party storage, the TS7650G ProtecTIER Deduplication Gateway provides a powerful disk-based repository to improve the performance, retention and availability of backup and archive data.
Improve backup and recovery and simplify disaster-recovery operations
Lower operational costs and energy usage
Manage more data with less infrastructure
Learn more about the sophisticated capabilities of IBM storage solutions that increase efficiency and performance. Contact your Zones account executive or call 800.408.9663.
Highlights
Up to 2,500 megabytes per second (MBps) or more – 9 terabytes per hour (TBph) – virtual tape library (VTL) sustained inline deduplication backup performance
Up to 3,200 MBps or more (11.4 TBph) VTL sustained recovery performance
Capacity that easily scales to provide up to 25 PB or more backup storage
Non-hash-based approach that supports data integrity by avoiding the possibility of data loss due to a hash collision
Inline approach that ensures backup windows are met and existing operations are not disrupted
Symantec OpenStorage support to simplify administration of backup, restore and replication operations
File System Interface (FSI) for network-attached storage (NAS)-based backup environments, support for both Network File System (NFS) v3 interface for UNIX clients and Common Internet File System (CIFS) for Microsoft Windows-based environments
Tested and proven performance in thousands of production environments around the globe since 2005
IBM HyperFactor non-hash-based deduplication technology designed to reduce storage needs by up to 25 times or more, radically reducing costs while maintaining enterprise-class data integrity
Native replication enables high-speed automated electronic replication of backup data between multiple data centers and remote office locations
Get the technology you need now without having to pay for it all up front.
Lease it from Zones!
Learn more